24 October 2023
Press releases
The focus will be on light-based pest and weed control using lasers and additive manufacturing. LZH will exhibit with Niedersachsen ADDITIV at the Agrotech Valley joint booth in Hall 24, Booth A08.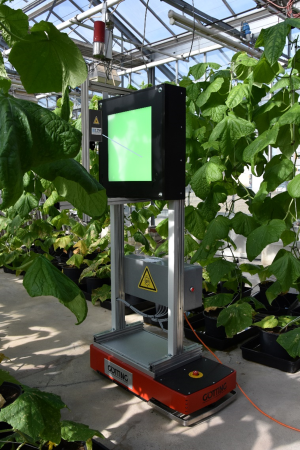 No chemicals, no resistance: Weed treatment with lasers
With laser technology, weeds can be precisely and selectively treated. The laser beam can target sensitive plant parts, causing unwanted plants to be lethally damaged or inhibited in their growth, without affecting nearby crops. This method is more ecologically sustainable than chemical pesticides and significantly contributes to avoiding herbicide resistance, one of the most pressing challenges in modern agriculture. The laser treatment is controlled using artificial intelligence (AI): Image recognition distinguishes crops and weeds, and the laser's target points are determined.  
Artificial Intelligence: A necessity for digitized agriculture
LZH also employs AI-based laser technology in pest control. The "LightTrap" (LichtFalle) is an autonomously moving system that attracts insects with an LED light surface and then neutralizes them with a laser. An integrated camera module automatically identifies whether an insect is a pest or a beneficial species based on image data, providing users with a digital decision support system for pesticide application through live monitoring. Light-based pest control can reduce the use of chemical agents, enabling more efficient and resource-friendly food production.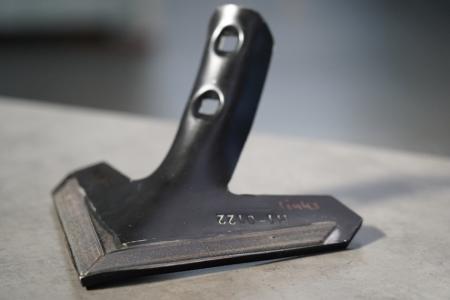 Additive Manufacturing: High potential for the agricultural industry
The opportunities for agriculture to benefit from additive manufacturing are diverse. For example, replacement parts for agricultural machinery can be produced quickly in a 3D printer. Highly stressed equipment and components can be repaired or protected against wear through deposition welding. At AGRITECHNICA, the Niedersachsen ADDITIV project team showcases concrete examples of how 3D printing in agriculture creates real added value.
Special Highlight: At the "Agriculture 4.0 Industry Meeting," hosted by Niedersachsen ADDITIV on November 15th, company representatives will have the opportunity to exchange ideas and network. More information about the industry meeting can be found at https://niedersachsen-additiv.de/.
Laser Zentrum Hannover e.V. (LZH) 
As an independent, non-profit research institute, the Laser Zentrum Hannover e.V. (LZH) stands for innovative research, development, and consulting. Supported by the Lower Saxony Ministry of Economics, Transport, Construction and Digitalization, the LZH is dedicated to selflessly promoting applied research in the field of photonics and laser technology. Founded in 1986, almost 200 employees are now working at the LZH. 
The LZH offers solutions to current and future challenges with its smart photonics. Along the process chain, natural scientists and engineers work interdisciplinary together: from component development for specific laser systems or for quantum technologies to process developments for a wide variety of laser applications, for example for medical and agricultural technology or lightweight construction in the automotive sector. 19 successful spin-offs have emerged from the LZH to date. Thus, the LZH creates a strong transfer between fundamental science, application-oriented research, and industry - and uses light for innovation.