Surface functionalization for biomedical and technical applications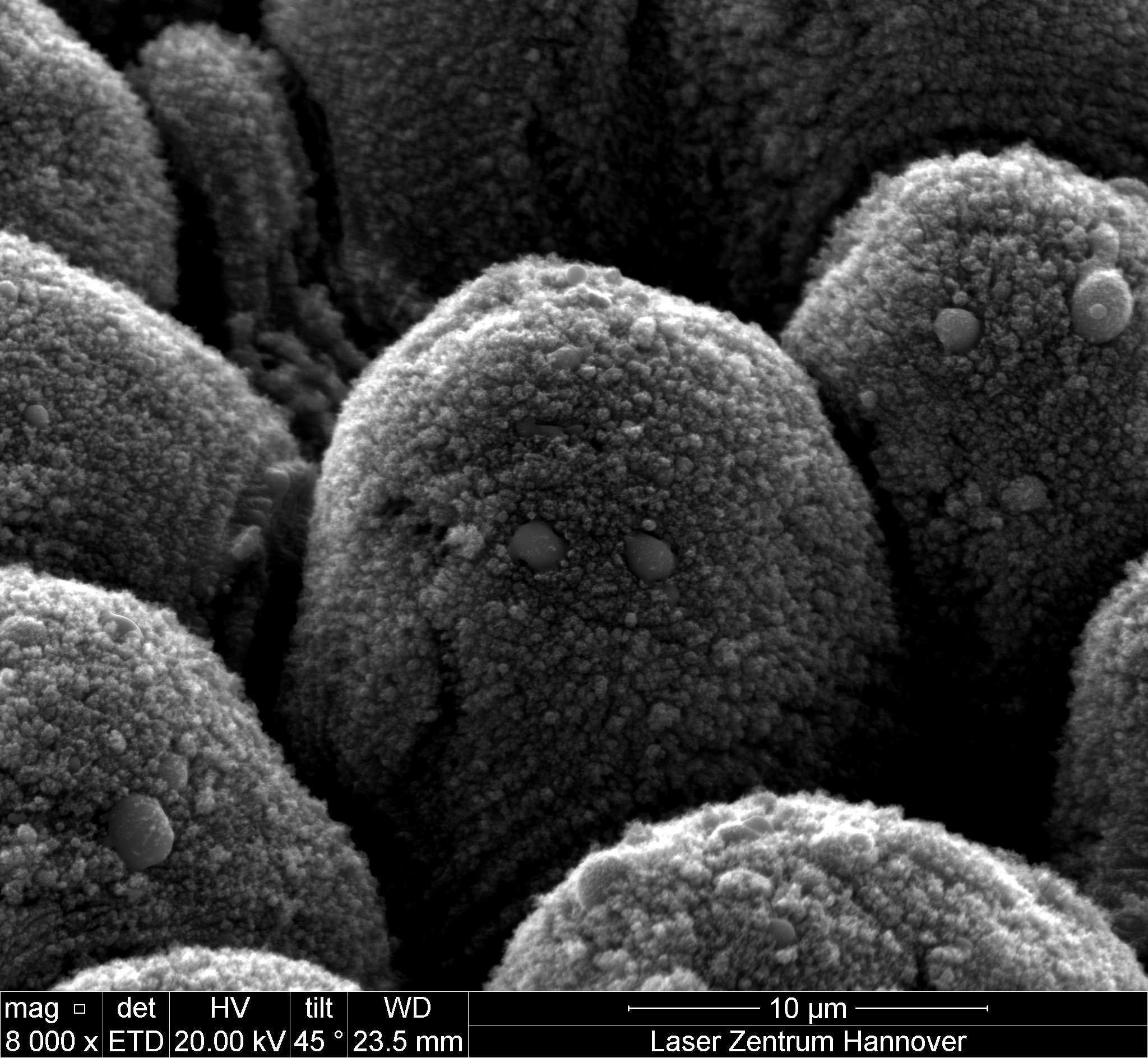 The Biophotonics Group of the Industrial and Biomedical Optics Department offers the specific modification of surfaces of the most diverse materials in order to impart the desired properties for various biomedical and technical applications:
Wettability with liquids
Light absorption
Tribological properties
Biocompatibility
The structuring of material surfaces with ultrashort laser pulses changes their properties in a well-targeted manner. In this way, surfaces can be functionalized to prepare them for diverse applications:
Wettability with liquids:
For example, laser structuring metal imparts superhydrophobic properties to metal surfaces.
Light absorption:
In the same way, the light absorption of semiconductors and metals can be increased significantly with ultrashort laser pulses. This process is, for example, well suited for applications in sensor and solar technology.
Tribological properties:
Anisotropic properties too can be modified with ultrashort laser pulses. In this way, the tribological properties of surfaces can be controlled in a well-targeted way. Furthermore, laser-generated structures on the surfaces can serve as a lubricant depot.
Biocompatibility:
Well-targeted surface structuring makes it possible to improve the biocompatibility of implants and medical devices. The structures generated by an ultrashort pulse laser can have a cell-selective or a cell-repellent function. An in-vitro-testing can be carried out.
This service is, among others, used in the following areas::
Manufacturing:

Material groups:

Alloys
Composites
Glass materials
Natural materials
Metals
Plastics
Semiconductors

Consulting, development and contract research:

Feasibility studies
Process and system development
Technology consulting and transfer
Technology transfer from research to industry

Fields of application and industrial sectors:

Aerospace
Automotive
Electronics
Electrical engineering
Environmental technology
Information and telecommunication
Job order production
Lighting

Medical technology and biotechnology

Sensor technology

Show technology, advertising and the arts
Tool making and mechanical engineering
We will be happy to discuss your individual requirements. Please feel free to contact us.