GNOME – laser transfection for high-throughput testing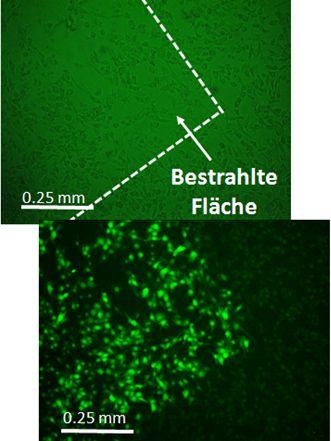 Transmission and fluorescence image of a spatially selectively treated GNOME cell culture sample. Photo: LZH
During the cell manipulation by gold nanoparticle-mediated laser transfection (GNOME), membrane-adhered gold nanoparticles are irradiated with the laser. Through the interaction of light and nanoparticles, the membranes are temporarily perforated, and thus enable the inflow of extracellular molecules. Depending on the parameters, cells can also be selectively eliminated. Additionally, scrape loading experiments can be carried out in microtiter plates.
With the laser-based method, cell culture samples can be treated in high-throughput mode: within 10 minutes, complete microtiter plates can be treated. Various molecules, such as siRNA, morpholinos or proteins, can be delivered into the cells.
Suitable samples and applications:
The following applications can, among others, be tested in high-throughput with cell lines and primary cells (according to biological safety level S1):
siRNA transfection
Protein injection
Delivery of dye molecules
Selective cell manipulation/elimination
This service includes both consulting and testing. Here, mammalian cell samples are pre-treated with gold nanoparticles and with the molecule to be tested. Afterwards, the laser transfection is carried out, and then evaluated by fluorescence microscopy and a microplate reading device.
Manipulated cell samples or microscopy images, or the data of the microplate reading analysis can be delivered as results.
This service is, among others, relevant for the following areas:
Consulting, development and contract research:

Fields of application and industrial sectors:

Medical technology and biotechnology
We will be happy to discuss your individual requirements. Please feel free to contact us.