Pulsed laser micro-welding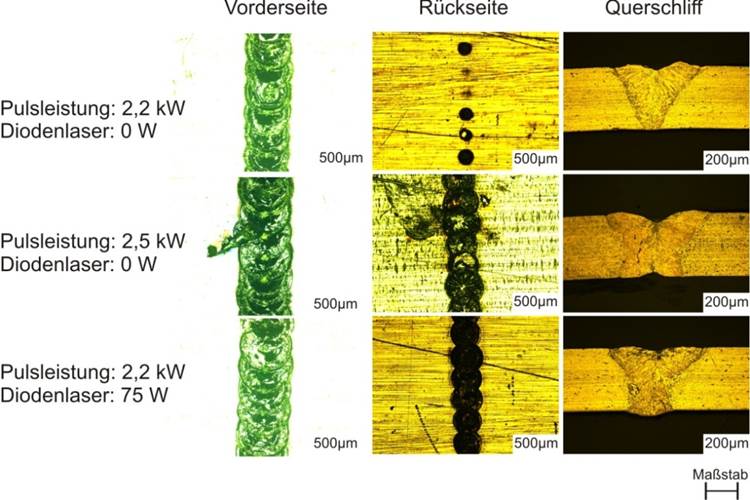 Process combination of 1064nm and 808nm wavelength. Photo: LZH

Process combination of 1064nm and 532nm wavelength. Photo: LZH
The joints are pre-conditioned in the first step, and welded in a reproducible way in the second step. Through the combination of these two process steps, a high process security is achieved. Here, two different solid-state lasers are used. Compared to conventional welding with one beam source, the energy input is lower with this process. Even crack-sensitive materials, such as Al 6082, Al 2017, Al 6061 and Al 6063, can be processed.
The use of filler material is an option, too. For this purpose, the LZH provides highly precise system technology that allows for using extra fine wires with a thickness of 0.3mm and above.
If needed, the group "Machines and Controls" can analyze and optimize an existing process, or develop a completely new joining process.
This service is, among others, used in the following areas:
Manufacturing processes:

Material groups:

Consulting, development and contract research:

Feasibility studies
Process and system development
Technology transfer from research to industry

Measurements and analyses:

Fields of application and industrial sectors:

Aerospace
Automotive
Electrical engineering
Electronics
Material processing
Photovoltaics and energy technology
Printing technology and graphics
Semiconductors
Sensor technology
We will be happy to discuss your individual requirements. Please feel free to contact us.