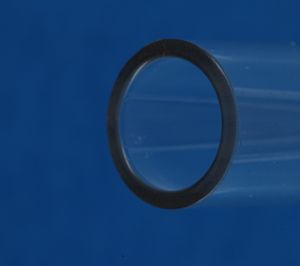 Laser cutting of glass tubes. Photo: LZH
Glass tubes and flat glass can be separated by laser radiation. There are two laser processes available: stress-induced cutting and sublimation cutting.
Stress-induced cutting is suitable for flat glass and glass tubes with thicknesses > 0.5 mm. It stands out by extremely high cutting speeds and high cut qualities. During this process, a laser heats the glass either as a whole or just on the surface and the material expands locally. During the cooling phase, the material breaks at the pre-defined places where the laser beam had heated the glass.
Sublimation cutting, however, is especially well-suited for cutting thinner glasses, or for cutting contours with a radius. Here, the glass is locally vaporized with continuous wave and pulsed laser systems. Cutting glass with this method is very flexible.
This service is, among others, used in the following areas:
Manufacturing processes:

Material groups:

Consulting, development and contract research:

Feasibility studies
Process and system development
Technology consulting and transfer
Technology transfer from research to industry

Fields of application and industrial sectors:

Automotive
Electrical engineering
Electronics
Job order production
Lighting
Medical technology and biotechnology
Photovoltaics and energy technology
Printing technology and graphics
Semiconductors
Show technology, advertising and the arts
We will be happy to discuss your individual requirements. Please feel free to contact us.