3D volume cross-section images with Scanning Laser Optical Tomography (SLOT)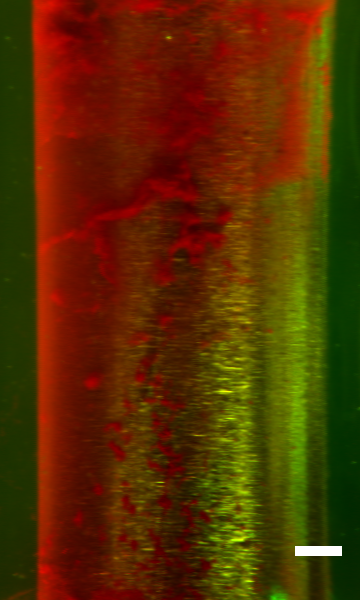 With SLOT, transparent samples can be volumetrically visualized (3D) and reconstructed. The digital 3D volume images are generated from projection image stacks. Furthermore, SLOT images of cleared ex vivo samples, opaque surfaces and tissue-engineered samples (safety level S1) are possible. With SLOT, small sample organisms, such as D. melanogaster and C. elegans, can even be displayed in vivo.
Both fluorescence with linear excitation and scattering can be used as contrast mechanisms. Projected transmission images can be made with coherent (monochromatic) light, a subsequent reconstruction, however, is not necessary. In addition, telecentric projection images can be made from a 360° view angle area.
Should the samples, which can have a diameter of up to 1.5 cm and 4 cm in length, not be transparent, it can first be evaluated if the samples can be cleared. If this is possible, the samples can be prepared accordingly.
This service is, among others, relevant for the following areas:
Imaging processes:

Scanning Laser Optical Tomography (SLOT)
We will be happy to discuss your individual requirements. Please feel free to contact us.