Consulting for regulatory affairs & approval of medical products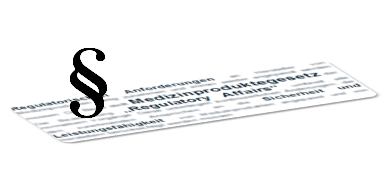 The Laser Zentrum Hannover e.V. (LZH) supports companies in putting medical products on the market. The department "Industrial and Biomedical Optics" offers consulting for regulatory affairs and helps developing the required documents.
When authorizing medical devices, a number of normative processes, the "Regulatory Affairs", have to be taken into account. Since May 25th, 2017, the new European Medical Devices Regulation (MDR) and the new EU Regulation for In-vitro Diagnostics (IVDR) and their national implementation - the Medical Device Law Implementation Act (MPDG) form the basis for the marketing of medical devices in Europe and Germany. With a transitional period, they will replace the current EU directives (90/385 / EEC - active implantable medical devices, 93/42 / EEC - other medical devices and 98/79 / EC - in vitro diagnostics) by 2021 and 2022, respectively.
The LZH advises and supports companies in the marketing of new medical products. The Department of Biomedical Optics has fundamental competencies in the following areas:
Consulting and support during the Conformity Assessment Procedure up to the CE marking
Differentiation and classification of medical products
Surveys of standards and guidelines
Creation of technical documentations
Proof of compliance with the essential requirements
Risk analysis/risk management according to DIN EN ISO 14971
Furthermore, the LZH offers consulting for requirements on the clinical assessment and clinical test.
This service is, among others, used in the following areas:
Fields of application and industrial sectors:

Medical technology and biotechnology
We will be happy to discuss your individual requirements. Please feel free to contact us.