Cooperation in times of Corona: rpm, MeKo and LZH donate protective visors to doctor's offices and hospitals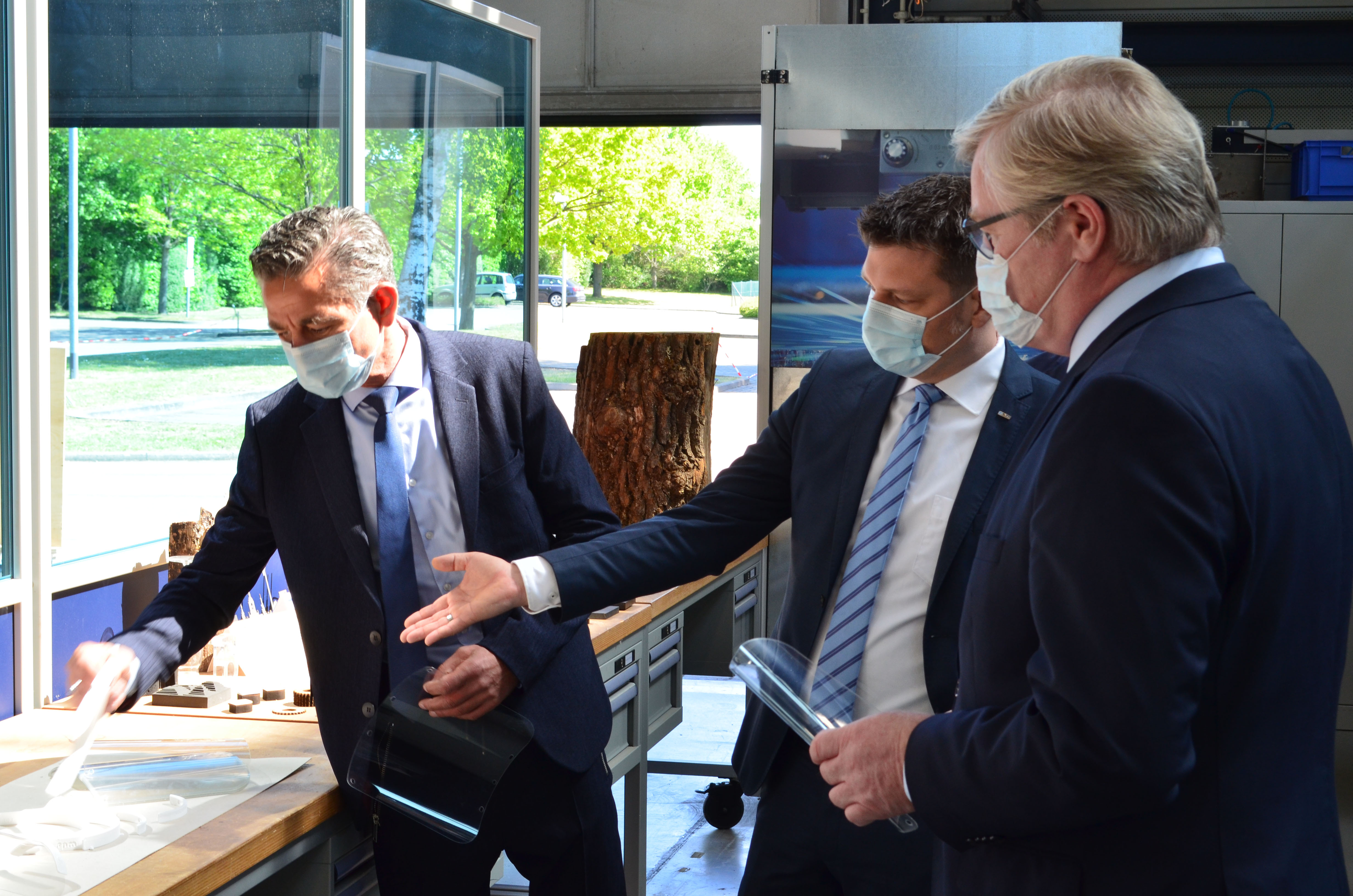 Protective visors from the 3D-printer and laser cutting system - Dr. Bernd Althusmann, Niedersachsen's Minis-ter of Economics, is visiting the labs of the LZH (f.l.t.r. Dr. Jörg Gerken, rpm, Dr. Dietmar Kracht, LZH, Dr. Bernd Althusmann). (Photo: LZH)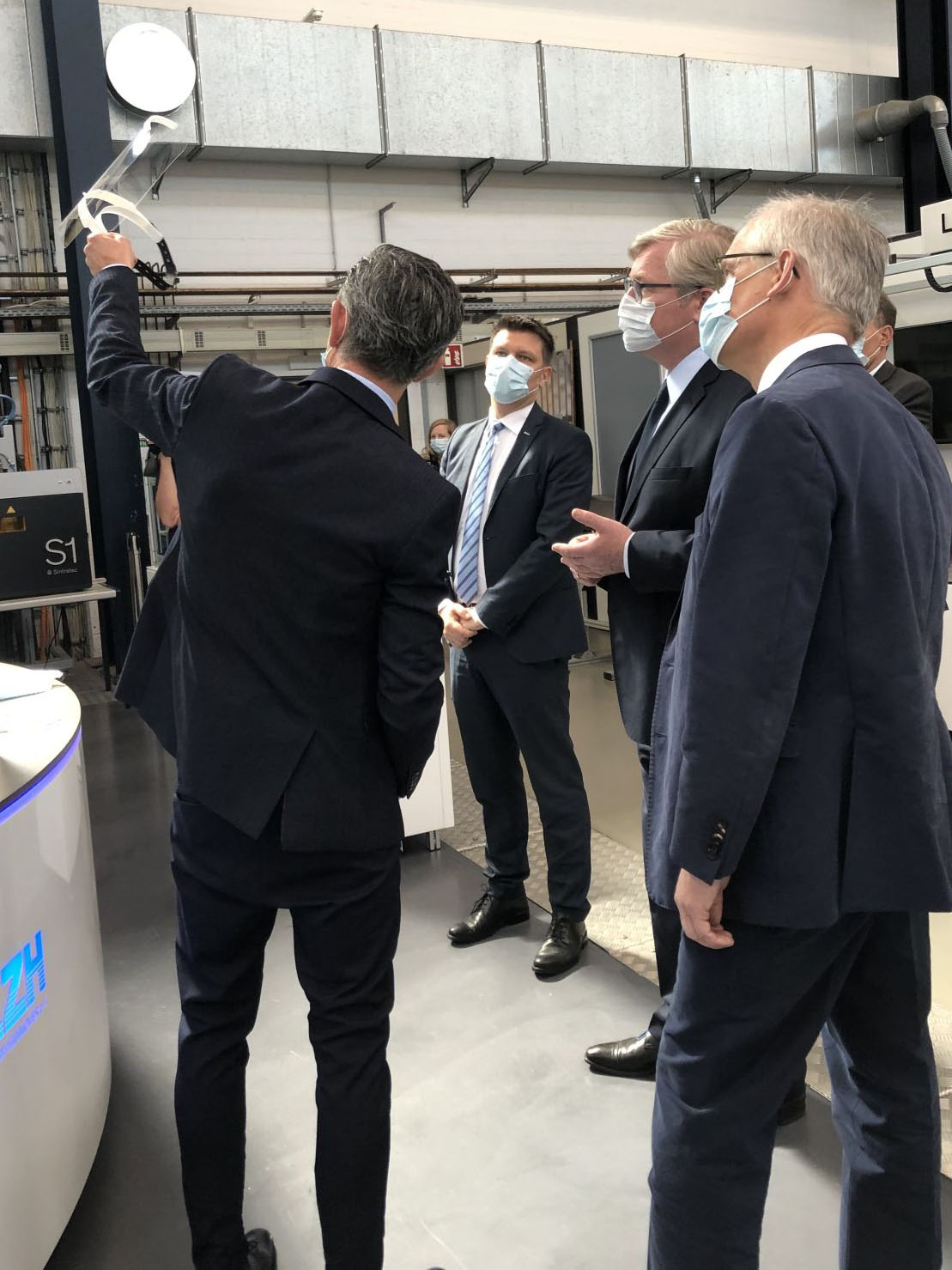 Dr. Bernd Althusmann, Niedersachsen's Minister of Economics with the directors of rpm, Meko and LZH (v.l.n.r. Dr. Jörg Gerken, rpm, Dr. Dietmar Kracht, LZH, Dr. Clemens Meyer-Kobbe, MeKo)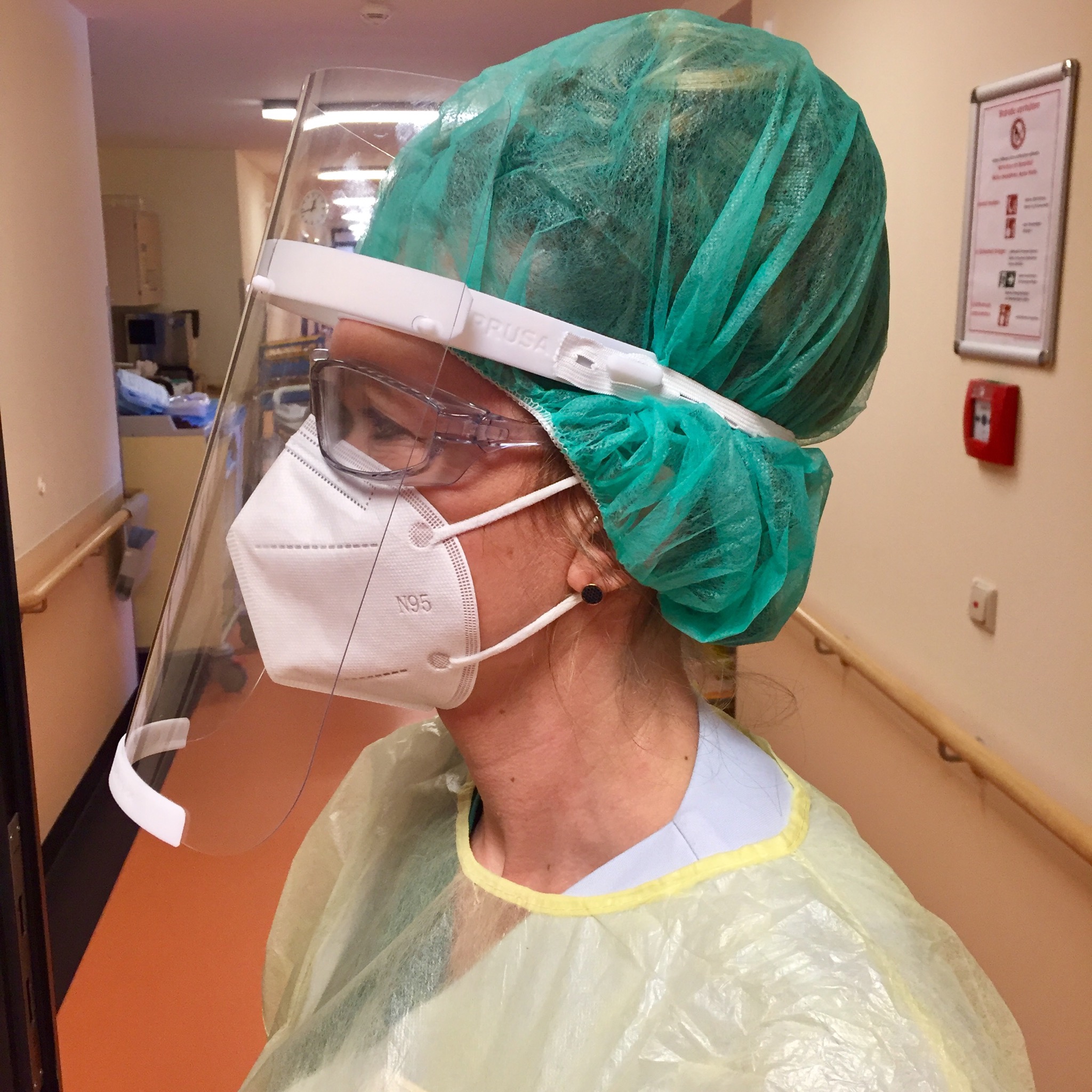 3D-printing for more safety: complete protective visor from the cooperation between rpm, MeKo and LZH in use at the Helios Klinikum in Gifhorn (Photo: Helios St. Marienberg Hospital Helmstedt GmbH)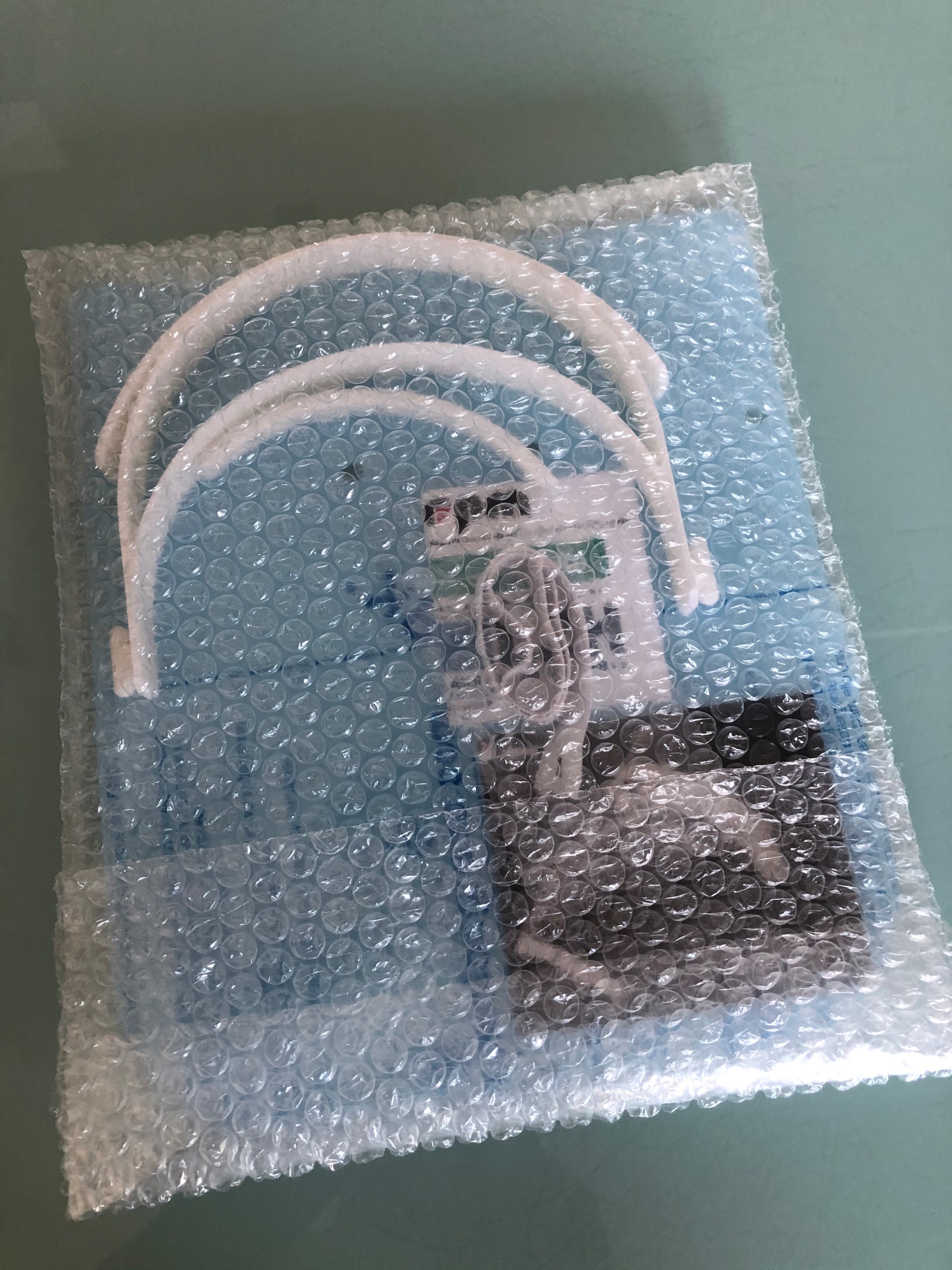 The finished components are carefully packed and shipped to doctor's offices and clinics. (Photo: rpm)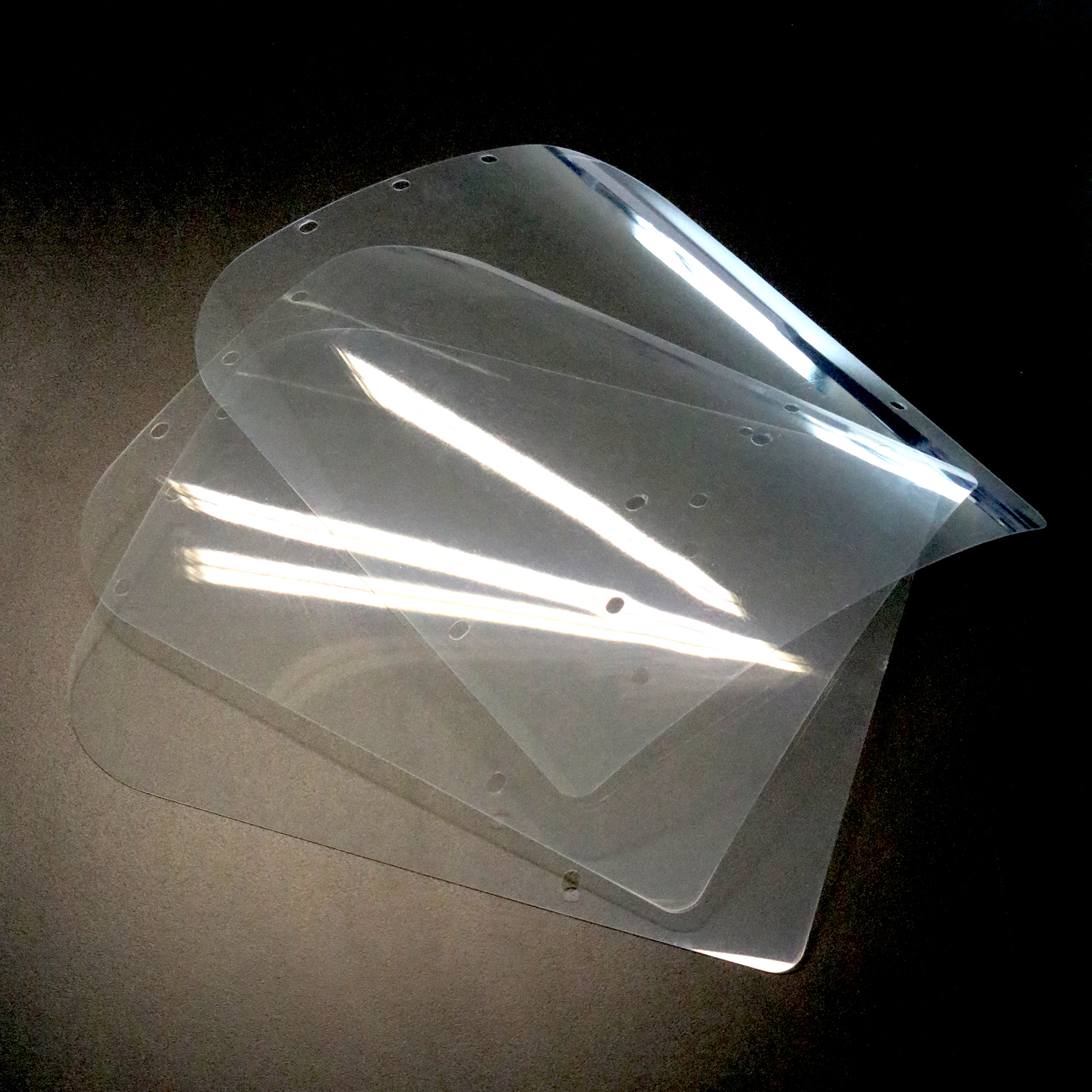 Laser-cut protective visors from MeKo. (Photo: MeKo)
The rapid product manufacturing GmbH (rpm), MeKo Laserstrahl-Materialbearbeitungen e.K. (MeKo) and the Laser Zentrum Hannover e.V. (LZH) jointly produce 3D-printed and laser-cut protective visors and donated the first visors to doctor's offices and clinics. Niedersachsen's Minister of Economics, Dr. Bernd Althusmann, praised the cooperation between SMEs from Niedersachsen and the research institute.
Protective equipment is still in short supply in doctor's offices in Niedersachsen. The inquiry from paediatricians in the Hannover area prompted Dr. Jörg Gerken, technical director of rpm, a premium supplier and development partner in the field of 3D-printing, to become active: "Based on the print files from Prusa Research, we can print over 100 plastic holders for protective visors on an SLS machine within a week. All we needed was someone to cut the plastic."
Dr. Jörg Gerken used his old network: the LZH, from which rpm emerged over 20 years ago, and MeKo, a laser materials processing company for high-precision components and also one of the oldest spin-off companies of the LZH. Both have the necessary expertise to automatically cut the plastic foil with the laser.
During a visit to the LZH, Niedersachsen's Minister of Economics Dr. Bernd Althusmann said: "When treating Covid-19 patients, doctors and nursing staff must be protected from an infection. Protective materials such as the protective visors manufactured at the Laser Zentrum Hannover help in this and can save lives. With the help of laser technology, protective visors can be produced without long lead times, flexibly - and above all, on site. This makes us more independent of logistics and production chains outside Germany and Europe when it comes to procuring vital safety and protective materials. Above all, clinics and resident doctors can be supplied quickly and reliably thanks to the short production and delivery times."
300 visors donated, further visors to be charged at cost
Three hundred protective visor sets from the joint production were donated by rpm, MeKo and LZH to doctor's offices in Hanover and Helmstedt as well as to the staff of the Helios Clinics. Prof. Dr. med. Detlev Ameis, Head of Gastroenterology at the Helios St. Marienberg Clinic in Helmstedt, is very satisfied with the visors: "We have tested the visors thoroughly in the central emergency room, corona infection ward and endoscopy, and we were very satisfied with the handling". Dr. Ralf Dörre, Medical Director of the Helios St. Marienberg Clinic Helmstedt is pleased with the initiative: "We are very grateful for the protective visors. They are to be used in the treatment of COVID-19 patients or in emergencies. With this helpful donation our doctors and nursing staff are well protected". Further inquiries have been received and the coming batches will be delivered at cost price.
Substitute product for the time of material shortage
The print file for the headgear is publicly accessible on the internet and has been slightly modified by rpm at the request of doctors. rpm prints it from the plastic PA 12 by means of laser sintering. The holder is suitable for a shield made of 0.4 to 0.5 mm thick PET or PET-G film. The visor is fixed with a button rubber band. The protective visors are not approved medical devices or certified protective equipment and can only serve as a supplementary barrier for which no protective effect has been proven. The visors are not intended to be used beyond the duration of the SARS-CoV-2/COVID-19 pandemic or the existing shortage of certified protective applications.
There are five figures for this press release.
Press release for download:
rpm rapid product manufacturing GmbH:
rpm GmbH (founded in 1997, 88 employees, 15 % trainee ratio, 10.5 million EUR annual turnover) was founded by Dr. Jörg M. Gerken and Dr. Klaus Kreutzburg in Helmstedt. After starting with the production of prototypes using laser sintering technology, within a few years the company developed into a comprehensive service provider for the professional production of prototypes and small series in plastic and metal.
For more than 20 years now, rpm has been engaged in additive manufacturing, classical model making, small series production using soft tools made of silicone or fixed tools for casting in polyurethane and polyamide as well as injection moulding. Due to the manifold manufacturing opportunities in one house, rpm has an extraordinary manufacturing and consulting competence. rpm's customers come from the mobility, consumer and medical sectors.
More information at www.rpm-factories.de, www.rpm-digitalfactory.de.
MeKo Laserstrahl-Materialbearbeitungen e.K. (MeKo)
MeKo is a globally active and ISO certified supplier specialized in laser material processing. The company has more than 25 years of experience, especially in the production of components for customers in the fields of mechanical and plant engineering, medical technology, aviation and automotive industry. Over 70,000 different components made of metal and other materials have already been produced.
More information at www.meko.de
Laser Zentrum Hannover e.V. (LZH)
As an independent, non-profit research institute, the Laser Zentrum Hannover e.V. (LZH) stands for innovative research, development and consulting. The LZH is supported by the Niedersachsen Ministry of Economic Affairs, Employment, Transport and Digitalisation and is dedicated to the selfless promotion of applied research in the field of photonics and laser technology. Founded in 1986, over 170 employees are now working for the LZH.
The focus of the LZH lies on the fields of optical components and systems, optical production technologies, and biomedical photonics. Interdisciplinary cooperation between natural scientists and mechanical engineers makes innovative approaches to challenges from the most different areas possible: from the development of components for specific laser systems to process developments for the most diverse laser applications, for example for medical technology or lightweight construction in the automotive sector. Eighteen spin off companies have emerged from the LZH up to now. Thus, the LZH has created a strong transfer between fundamental science, application oriented research, and industry.
More information at www.lzh.de