Forum Additive Fertigung: Successfully getting started with 3D printing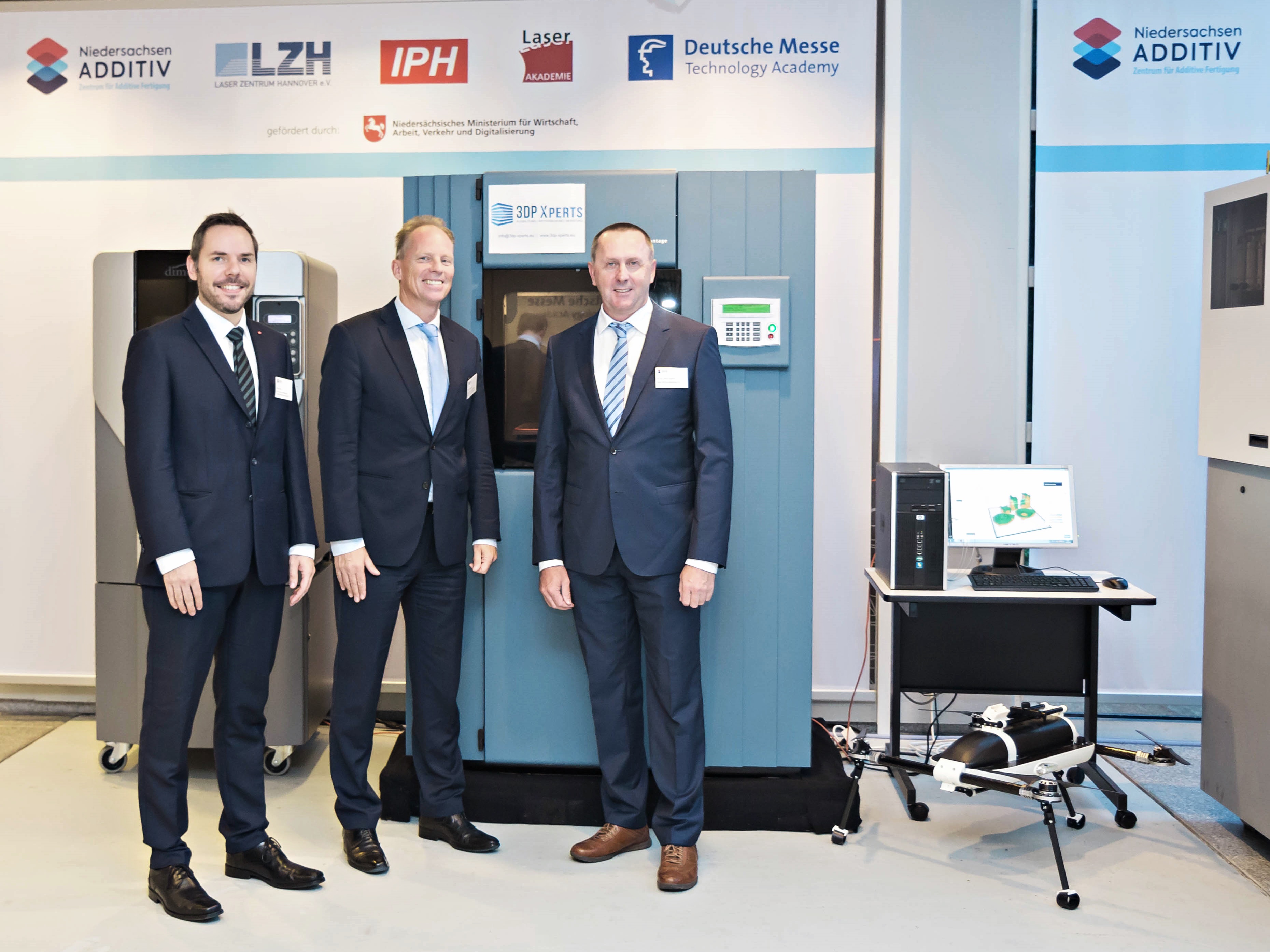 Dr. Niels Kämpny (center) from the Lower Saxony Ministry of Economics, Labor, Transport and Digitalization, project leader Dr.-Ing. Stefan Kaierle (right) from the Laser Zentrum Hannover e.V. (LZH) and Dr.-Ing. Malte Stonis from the Institut für Integrierte Produktion Hannover gGmbH in the showroom of Niedersachsen ADDITIV. (Photo: LZH)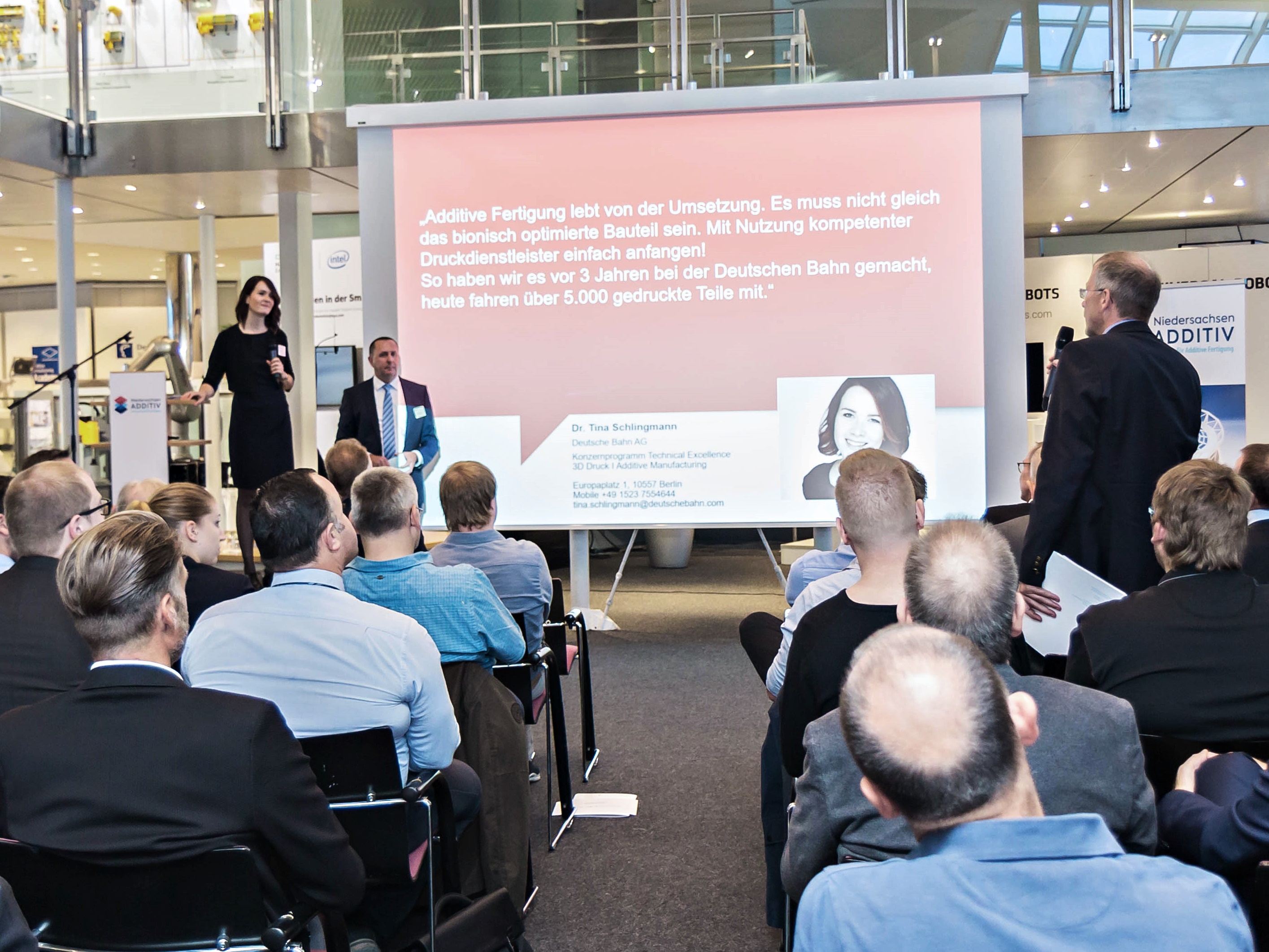 "Just begin with competent print service providers", motivates Dr.-Ing. Tina Schlingmann of Deutsche Bahn AG the participants to get started in 3D printing. (Photo: LZH)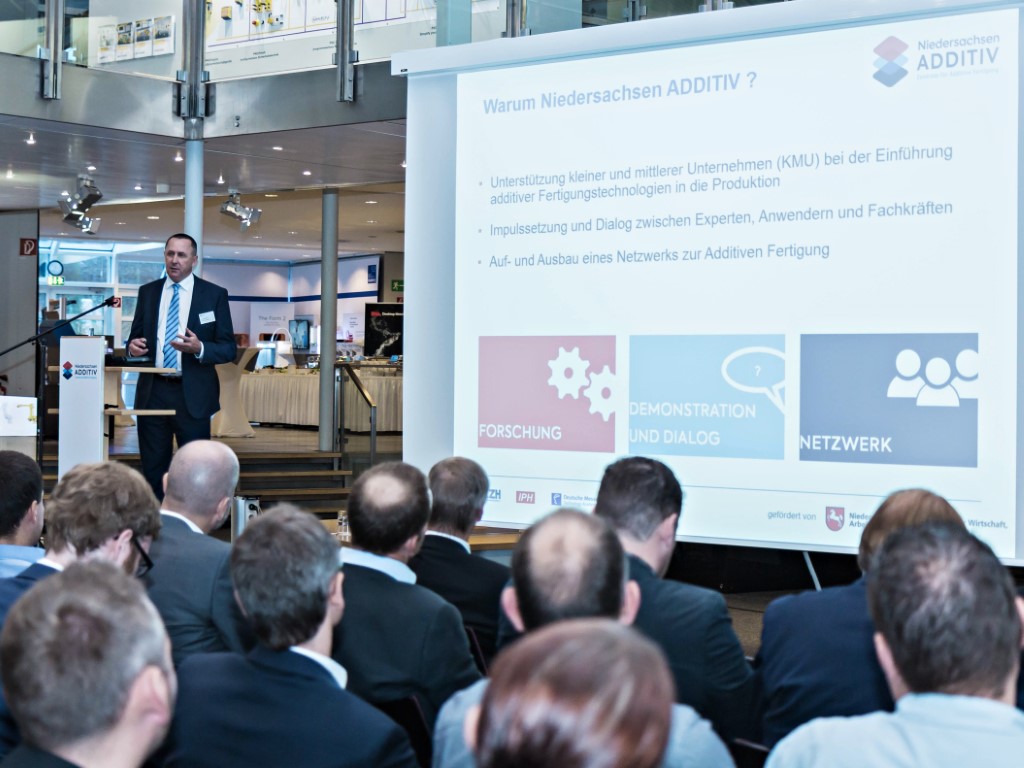 "Additive manufacturing is a key technology in the area of Industry 4.0," emphasizes Dr.-Ing. Stefan Kaierle the great importance of technology for Lower Saxony as an industrial location. (Photo: LZH)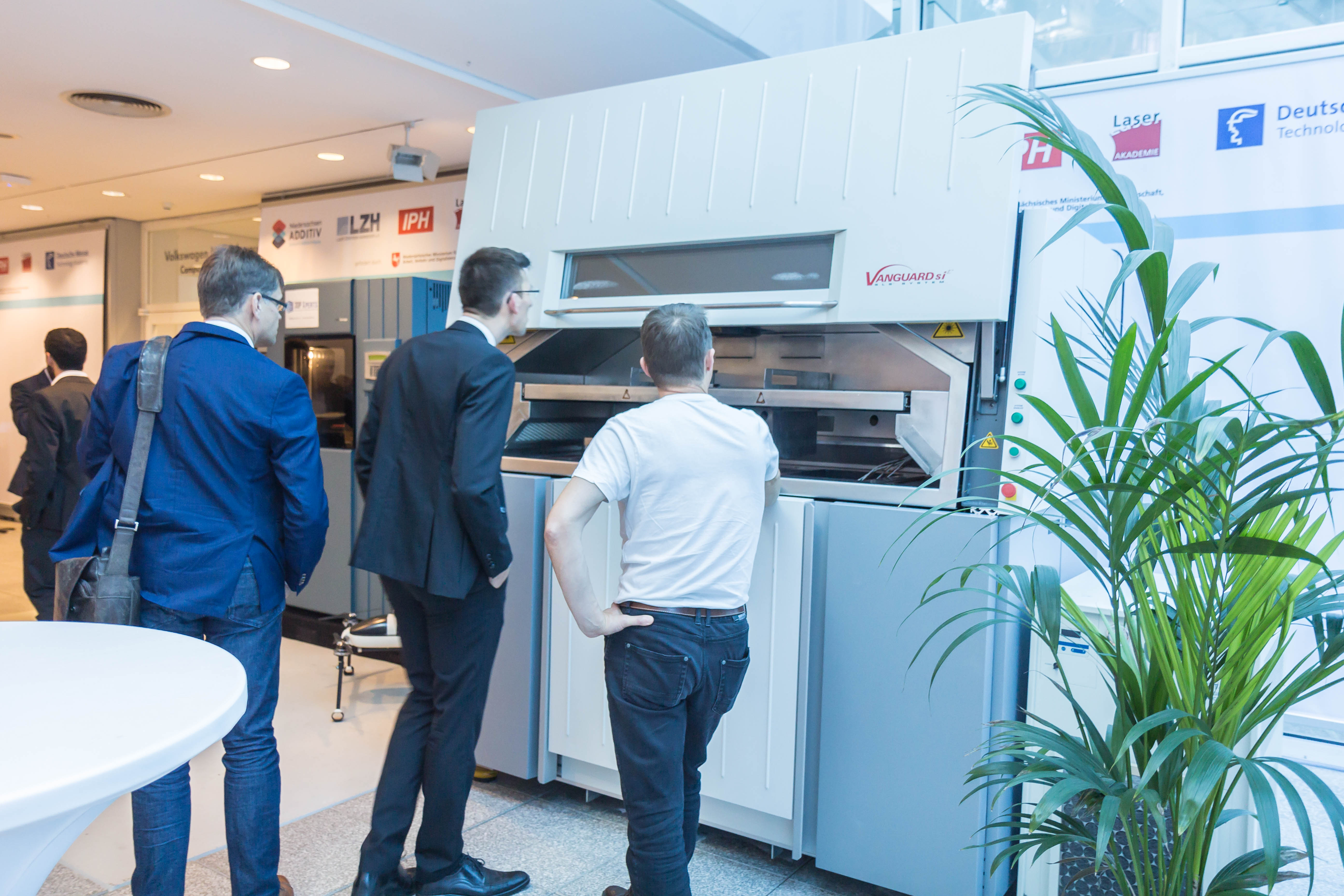 Additive manufacturing pays off if it allows for individualized products, reduced weight, functional improvements or fewer process steps. (Photo: LZH)
The exchange on best-practice examples, research topics and business models was the focus of the Forum Additive Fertigung in Hannover on September 12th, 2018. Invited by Niedersachsen ADDITIV – Zentrum für Additive Fertigung, 90 participants from business, science and politics received answers to the questions "when is 3D printing worthwhile?" and "what should SMEs pay attention to when getting started?".
"Niedersachsen ADDITIV is dedicated to transferring additive manufacturing to the SMEs, network companies and bring them together with research," summarized Dr.-Ing. Stefan Kaierle, Executive Director of the Laser Zentrum Hannover e.V. (LZH) and head of the Niedersachsen ADDITIV project, the goals of the center. Dr. Niels Kämpny, head of department at the Lower Saxony Ministry of Economics, Employment, Transport and Digitalisation, emphasized in his welcoming speech that Niedersachsen ADDITIV is an essential part of the country's digitalization strategy.
Additive processes not only enable resource-saving manufacturing processes, but also new and improved features for a variety of products used on Earth and even in space. For example, when digging on Mars, a printed titanium nitride depletion layer prevents chipped material from the drill from distorting the analysis.
Additive manufacturing keeps trains moving
Earthly applications with clear advantages over conventional methods include punctual trains. "Thanks to Additive Manufacturing, 100 electric locomotives did not stand still because the spare parts could be delivered quickly," reported Dr.-Ing. Tina Schlingmann, senior technical consultant for the railway system at Deutsche Bahn AG. From the users' point of view, automation, quality assurance and reproducibility are currently the biggest hurdles on the way to additive series production. Here, researchers and manufacturers have to develop solutions. New printable materials and, above all, more young talents are desirable for manufacturers of 3D printing equipment.
Tips and recommendations for SMEs
"SMEs often tell me they have no time to think about the future. That's a dangerous approach. The companies should evaluate what the technology means for them and prepare themselves for it, "advises Wolfgang Bülow of Bionic Production AG. To get started, it makes sense to test 3D printing via service providers. If the results are convincing, companies can invest in their own systems. In order to ensure the quality of the printed parts in the end, well-trained staff is needed. But experienced specialists for 3D printing-compliant design, production and production are scarce. An alternative can be qualifying university graduates or employees specifically for additive manufacturing by means of suitable further education measures.
Companies who are interested in or already using additive manufacturing, Niedersachsen ADDITIV's wide range of events offers the opportunity to obtain information, network and build up know-how. All event dates at a glance: www.niedersachsen-additiv.de/de/termine/.
There are four figures for this press release.
Press release for download:
Niedersachsen ADDITIV – Zentrum für Additive Fertigung
Niedersachsen ADDITIV is dedicated to research additive manufacturing processes, to further develop them for widespread use in industry and to help small and medium-sized enterprises (SMEs) in Lower Saxony to integrate the new technologies into their production processes.
For this purpose, four partners have joined forces in Niedersachsen ADDITIV: the Laser Zentrum Hannover e. V. (LZH), the Institute for Integrated Production Hannover gGmbH (IPH), the Deutsche Messe Technology Academy GmbH and the LZH Laser Akademie GmbH.
The center is supported by Lower Saxony's Ministry of Economics, Labour, Transport and Digitalization. More information at www.niedersachsen-additiv.de.
Laser Zentrum Hannover e.V. (LZH)
As an independent, non-profit research institute, the Laser Zentrum Hannover e.V. (LZH) stands for innovative research, development and consulting. The LZH is supported by the Lower Saxony Ministry for Economics, Labour and Transport and is dedicated to the selfless promotion of applied research in the field of photonics and laser technology. Founded in 1986, over 170 employees are now working for the LZH.
The focus of the LZH lies on the fields of optical components and systems, optical production technologies, and biomedical photonics. Interdisciplinary cooperation between natural scientists and mechanical engineers makes innovative approaches to challenges from the most different areas possible: from the development of components for specific laser systems to process developments for the most diverse laser applications, for example for medical technology or lightweight construction in the automotive sector. Eighteen spin off companies have emerged from the LZH up to now. Thus, the LZH has created a strong transfer between fundamental sciences, application oriented research, and industry.