Efficiency in Laser Production at the Fair EuroBlech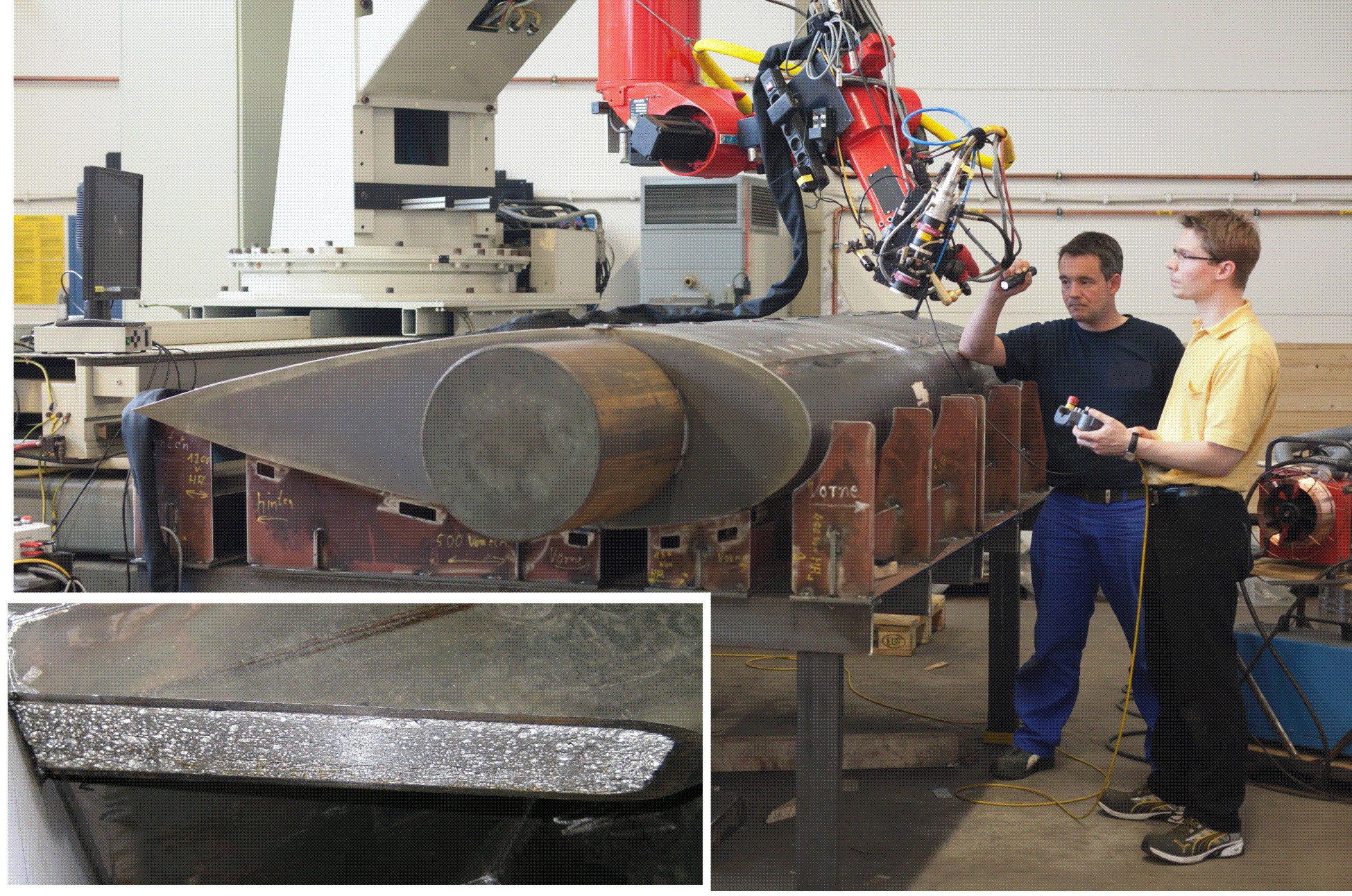 At the EuroBlech fair, the LZH will be showing how laser welding can be used for weight reduction in shipbuilding (Hall 11, Stand H 08). The ship rudder in the photo is made of laser welded steel-aluminum sandwich plates (see cross-section).
At this year's EuroBlech fair (October 23rd to 27th, 2012) in Hannover, the Laser Zentrum Hannover e.V. (LZH) will be showing that laser technology can be used to achieve higher efficiency in production and manufacturing. Visitors to the LZH stand (Hall 11, Stand H 08) can discover how laser welding, laser cutting and laser surface treatment can make metal and sheet metal processing more efficient, more productive and less expensive.
Laser welding plays an important role not only in sheet metal processing, but also in the research work carried out at the LZH. Highlights at the fair EuroBlech include laser welding of 23 mm thick metal sheets for ship building or pipeline construction, or how lasers can be used for welding a three meter long ship rudder made of steel-aluminum sandwich plates, cutting the weight of the rudder in half.
Even if laser cutting has been well established for several years, there are always new challenges. The LZH will be showing that lasers can be used to economically cu many different materials (e.g. alloys and non-ferrous metals) and different material thicknesses.
Laser surface treatment is interesting for rapid prototyping, for generating small structures (laser sintering) with a resolution of only 30 µm. The LZH will also be showing how laser deposition welding and repair welding can help reduce costs, for example for repairing so-called blisks (a turbine or engine component consisting of a single element combining the rotor disk and the blades).
Further exhibits and information can be found on
www.lzh.de
, or make an appointment with one of our experts at the fair. We hope to see you at the EuroBlech 2012, in Hall 11, Stand H 08.
Press release for download:
Business Development & Communications Department
Communications Group
Michael Botts
Public Relations
Tel.: +49 511 2788-151
Fax: +49 511 2788-100
E-Mail: m.botts@lzh.de
The Laser Zentrum Hannover e.V. (LZH) carries out research and development in the field of laser technology and is supported by the Ministry of Economic Affairs, Labour and Transport of the State of Lower Saxony (Niedersächsisches Ministerium für Wirtschaft, Arbeit und Verkehr).