Modern Glass Decor - Easy and Eco-Friendly with Laser Technology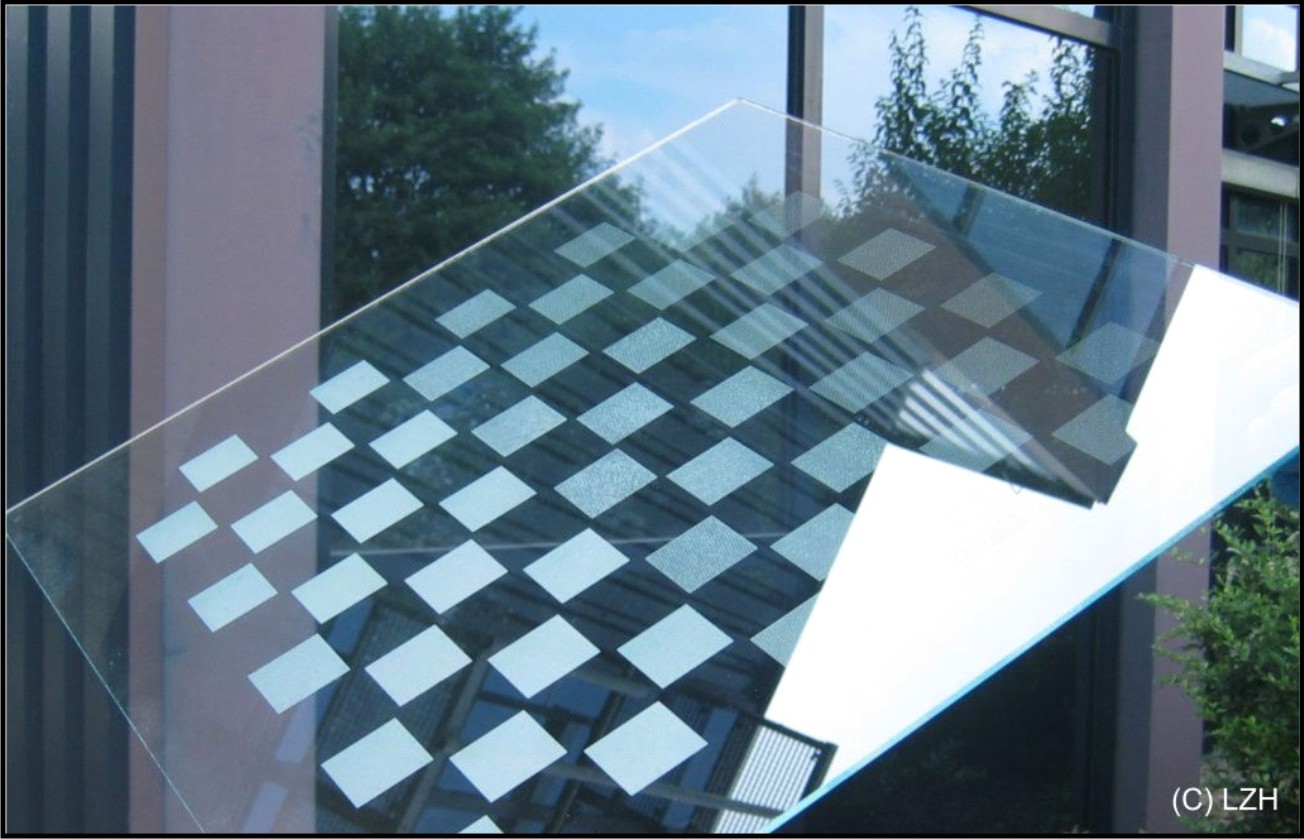 Laser structured glass for use in architecture
In the near future laser technology can be used to manufacture decorated and structured glass panes with individual decor as used in modern architecture or for designer furniture made of glass. This is the goal of a new research project between the Laser Zentrum Hannover e.V. (LZH) and the mechanical engineering company CERION GmbH.
"Laser technology offers a flexible, fast and eco-friendly manufacturing process for a large-scale structuring of glass panes," says Rainer Kling, supervisor at the LZH. "This applies for facades with individual decor as well as for interior design pieces such as partitions, tables and glass cabinets."
In contrast to present-day processes like etching and sand blasting, the laser can easily alter material characteristics such as the level of transparency of the manufactured structures. Another advantage is that it is not necessary to cover the glass panes with foils or protective lacquer during processing. In addition, the laser process can be fully automated does not need additives like acids or granulates. The project calls for construction of an industrially deployable processing unit for individual designing of glass pane surfaces.
Commercial structuring of glass panes will be done at a processing speed of about 10 m2 per hour and is also applicable to tempered safety glass. The laser produced structures are not only suitable for interior decoration, but also for the harsh conditions outside. Large-scale structuring is especially interesting for the field of architecture – for decoration purposes as well as for the influencing transparency.
The research project is financially supported by the Federal Ministry of Economy and Technology (BMWi) and the German Federation of Industrial Research Associations (AiF) within the framework of the funding measure "Zentrales Innovationsprogramm Mittelstand" (ZIM).
Press release for download:
Laser Zentrum Hannover e.V. (LZH)
Michael Botts
Hollerithallee 8
D-30419 Hannover
Tel.: +49 511 2788-151
Fax: +49 511 2788-100
E-Mail: m.botts@lzh.de
http://www.lzh.de
The Laser Zentrum Hannover e.V. (LZH) carries out research and development in the field of laser technology and is supported by the Ministry of Economic Affairs, Labour and Transport of the State of Lower Saxony (Niedersächsisches Ministerium für Wirtschaft, Arbeit und Verkehr).