Measuring Optical Purity Precisely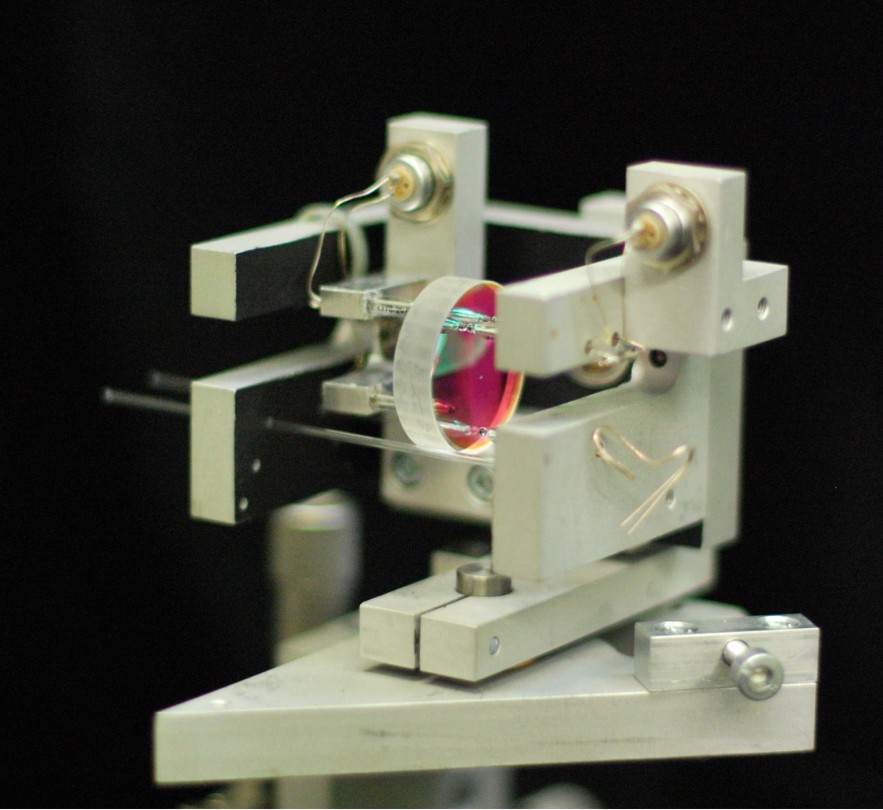 The laser calorimeter developed at the LZH detects smallest absorption data deriving from surfaces, coatings or impurities in optical materials. In the picture: the variable optics mount can be used for measuring different geometries.
Sowohl in der Entwicklung innovativer Produkte in der Optikindustrie, als auch bei der Fertigung von Laseroptiken ist es notwendig, die Reinheit optischer Materialien mit höchster Genauigkeit bestimmen zu können. Bei verschiedenen Quarzgläsern, Kristallen und zahlreichen weiteren optischen Gläsern sind die Anforderungen an Genauigkeit und Empfindlichkeit extrem gestiegen. Dazu zählen auch Optiken, die als Trägermaterial für hochwertige optische Beschichtungen dienen.
Zur Bestimmung der optischen Güte von Laseroptiken und anderen optischen Materialien hat das Laser Zentrum Hannover e.V. (LZH) ein Laserkalorimeter entwickelt, das die Absorption von Licht im Material misst. Die besonderen Vorteile des Geräts sind die hohe Empfindlichkeit, die absolute Kalibrierbarkeit und ein breiter Spektralbereich der Testwellenlänge.
Mittels einer hochpräzisen Temperaturmessung am Material kann mittlerweile in Abhängigkeit von der Wellenlänge eine Absolutabsorption von < 1 ppm (Ein Millionstel der eingestrahlten Laserleistung) nachgewiesen werden. Diese Genauigkeit gestattet die Detektion kleinster Absorptionswerte, die von Oberflächen, Beschichtungen oder von Unreinheiten im Material stammen können. Messungen sind bei prominenten Laserwellenlängen zwischen 193 nm und 2200 nm möglich. Zusätzlich ist der Bereich zwischen 670 nm und 2200 nm lückenlos zugänglich. Die Messwerte können so zugeordnet werden, dass sie zu Optimierungen innerhalb der Materialien und Bearbeitungs- bzw. Vergütungsprozesse beitragen. Somit wird eine kontinuierliche Verbesserung der entsprechenden Charakteristika der Laseroptiken möglich.
Das Laserkalorimeter ist als vollständiges Messinstrument in spezifisch angepassten Ausführungen für die Industrie erhältlich. Das LZH bietet auch Absorptionsmessungen für eine Vielzahl von Laserstrahlquellen als Dienstleitung für unterschiedlichste industrielle Anwendungen an.
Press release for download:
Business Development & Communications Department
Michael Botts
Public Relations
Tel.: +49 511 2788-151
Fax: +49 511 2788-100
The Laser Zentrum Hannover e.V. (LZH) carries out research and development in the field of laser technology and is supported by the Ministry of Economic Affairs, Labour and Transport of the State of Lower Saxony (Niedersächsisches Ministerium für Wirtschaft, Arbeit und Verkehr).