New Laser Cutting Processes for CFRP- Materials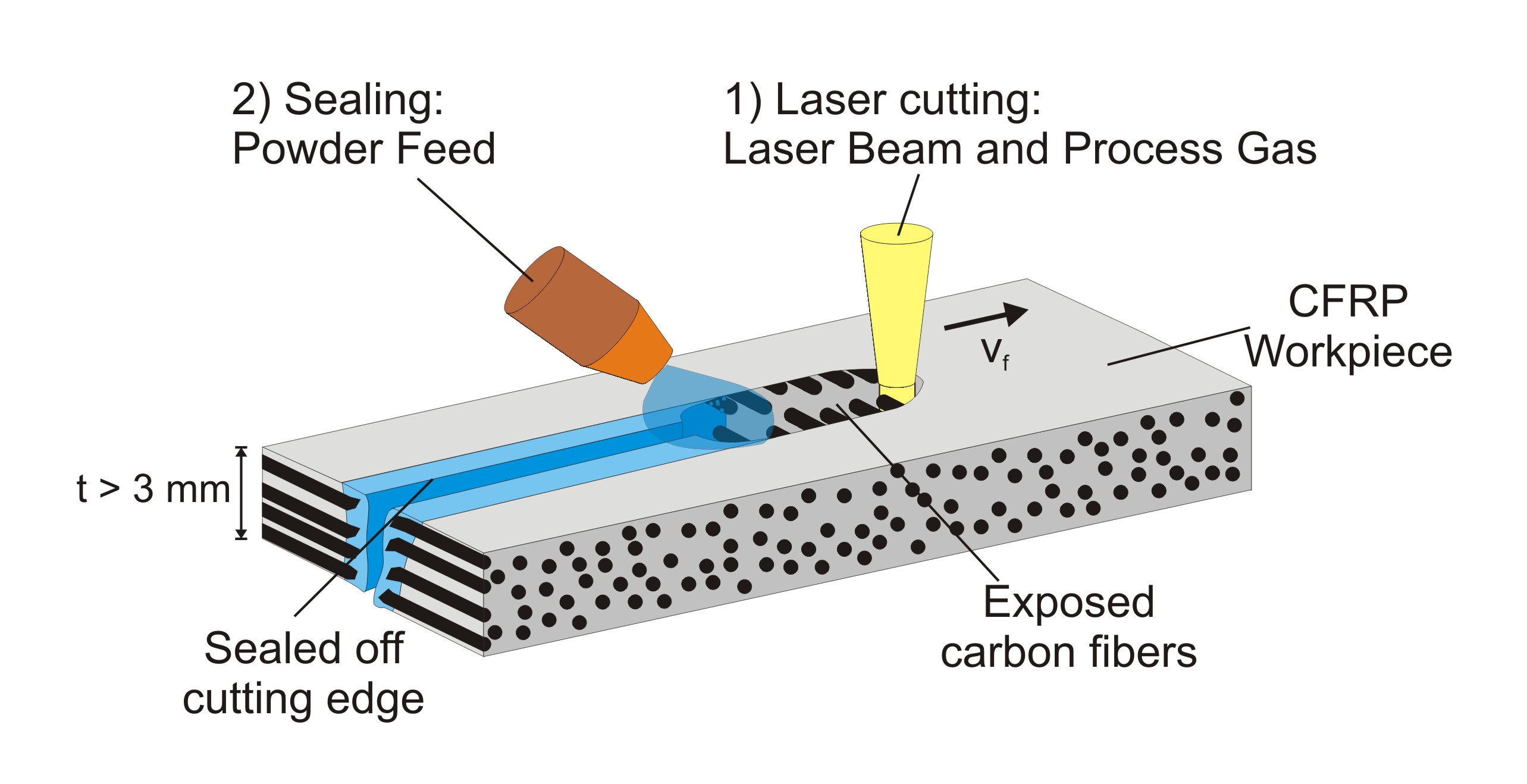 Prinzip der in-Situ-Kantenversiegelung beim Laserstrahltrennen von CFK (Quelle: LZH)
Carbon fiber reinforced polymers (CFRP) are being increasingly used as a construction material in the automotive and aerospace industry, as well as for wind energy and even in the field of sports and leisure activities. Conventional machining processes such as mechanical and water jet cutting are no longer able to meet the demands for increased atomization, a higher cutting speed and lower tool wear. By using "light" for cutting, laser processing can meet these demands, leading to an increase in productivity.
The Laser Zentrum Hannover e.V. (LZH) is working on a new laser cutting process for CFRP materials, which compensates for thermal damage occurring at the cutting edges, such as exposed carbon fibers and evaporated or melted polymatrix. Following the laser cutting, the cut kerf is coated with a powdery filler material which melts and thus seals the edge, making it a high-quality cut. To achieve the high cutting speeds of several meters per minute, ever for thicker laminates of over 3 mm, high-power lasers with maximum beam quality must be used. Thus, within the framework of this project, the LZH will be using a 6 kW- fiber laser system for this process.
A significant boost in the use of lasers for cutting CRFP is expected from this project. Also, improved profitability and production volume increase for CFRP-materials, as requested by the industry, is a goal of this project.
The project is sponsored by the German Federal Ministry of Education and Research (BMBF) within the framework of the funding program Optical Technologies. Project management is carried out by the VDI-Technologiezentrum GmbH.
Press release for download:
Business Development & Communications Department
Communications Group
Michael Botts
Public Relations
Tel.: +49 511 2788-151
Fax: +49 511 2788-100
E-Mail:
m.botts@lzh.de
The Laser Zentrum Hannover e.V. (LZH) carries out research and development in the field of laser technology and is supported by the Ministry of Economic Affairs, Labour and Transport of the State of Lower Saxony (Niedersächsisches Ministerium für Wirtschaft, Arbeit und Verkehr).