Repair and Wear Protection for Large Tools Becomes More Efficient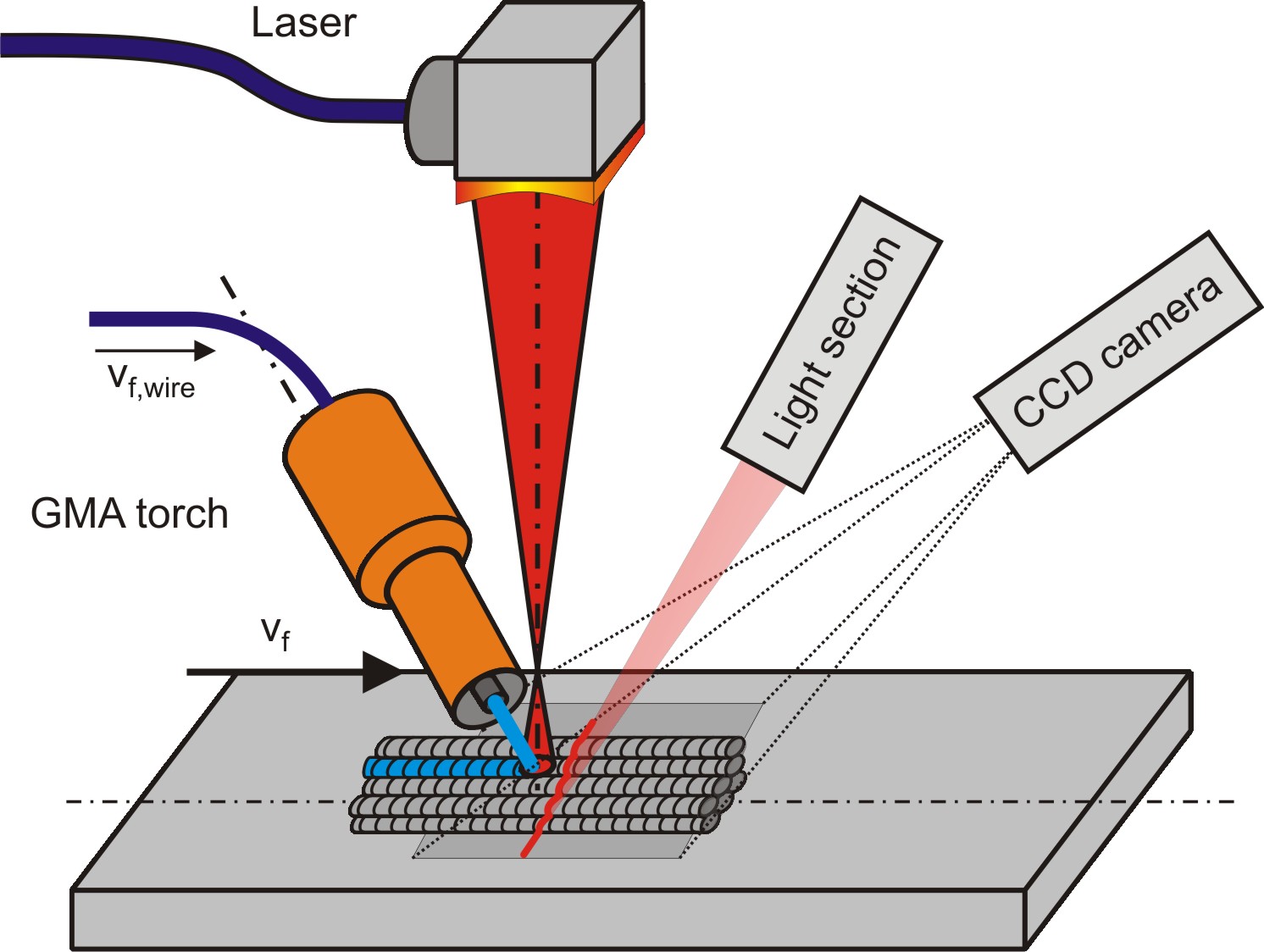 Experiment set-up of the laser stabilized GMA-deposition welding. The laser radiation stabilizes the welding arc and allows for higher application rates and high precision.
The goal of a new research project at the Laser Zentrum Hannover e.V. (LZH) is to significantly reduce the effort and cost for repairs and wear protection of large-sized tools. A new innovative deposition welding process is being developed, which can stabilize inexpensive yet imprecise gas metal arc welding (GMAW) by using laser radiation. This new process also makes the welding much faster. This development is especially interesting for forming and injection molding tools, or for tools used in mining and tunnel construction.
"The laser radiation generates a path with an increased conductivity directly in the arc," says Alexander Borroi, engineer at the LZH. "The laser determines the location and amount of the deposited metals, and you can weld more precisely and faster than with gas metal arc welding alone."
On the one hand, the combination of a GMAW- device with a diode laser of high average output ensures that operating costs are kept relatively low. On the other hand, the preciseness of the new process ensures a significant reduction of post processing. Further cost savings result from the form of the surface material. Instead of powder, wire is applied, which makes the entire powder recycling unit redundant.
"The development of a mobile system is especially interesting", adds Barroi. "This makes direct on site repairs possible, and accordingly long downtimes resulting from demounting and transporting large tools is no longer necessary."
The new deposition welding process is not only suited for repairs, but also for protection of tool edges and surfaces from abrasion and corrosion. Further fields of application, for example the construction of complex components via deposition welding, should also be opened.
The project "Progenial" is carried out in cooperation with the ERLAS Erlanger Lasertechnik GmbH and the MERKLE Schweißanlagentechnik GmbH. Progenial runs until the end of August 2011 and is sponsored by the German Federal Ministry of Education and Research (BMBF) within the framework of the funding program Optical Technologies. Project management is carried out by the VDI-Technologiezentrum GmbH.
Press release for download:
Business Development & Communications Department
Communications Group
Michael Botts
Public Relations
Tel.: +49 511 2788-151
Fax: +49 511 2788-100
E-Mail:
m.botts@lzh.de
The Laser Zentrum Hannover e.V. (LZH) carries out research and development in the field of laser technology and is supported by the Ministry of Economic Affairs, Labour and Transport of the State of Lower Saxony (Niedersächsisches Ministerium für Wirtschaft, Arbeit und Verkehr).