Handheld laser device for the hardening of cutting and forming tools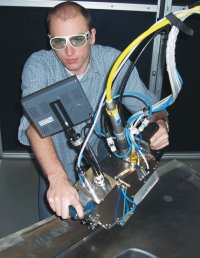 Fig. 1: Processing of a forming tool using a handheld laser hardening device
Together with industry partners, the Laser Zentrum Hannover e.V. (LZH) developed a new handheld laser device for the hardening of cutting and forming tools. A prototype of the device can be viewed at the EuroBlech trade fair (October 24-28, 2006) at booth C 21 in hall 12.
One disadvantage of the so far used conventional laser beam hardening is that it can only be used in conjunction with CNC machines and robots requiring much programming or teach-in work. Using the novel handheld laser device allows for timesaving and costeffective processing.
The handdevice has a maximum feed rate of 500 mm/min. One particular advantage is the accessibility at complex component geometries, which is guaranteed by a corresponding drive concept and a compact beam delivery. This device can be used without any difficulty with common industrial solid state lasers with an output power of up to 4 kW.
Aside from the hardness results, the safety of the device during operation is of utmost importance. Extensive safety measures were taken to avoid that laser radiation may unintendedly exit the device.
The fact that the handheld laser device can be used variably during the manufacturing process and at the production line presents immense economic advantages especially for SMEs. The flexible and handguided processing renders timeconsuming and laborintensive teach-in processes and CAD adaptations of stationary handling systems unnecessary.
The project was supported with funds from the German Federation of Industrial Research Associations (AiF) through the European Research Association for Sheet Metal Working (EFB).
Business Development & Communications Department
Michael Botts
Public Relations
Tel.: +49 511 2788-151
Fax: +49 511 2788-100
The Laser Zentrum Hannover e.V. (LZH) carries out research and development in the field of laser technology and is supported by the Ministry of Economic Affairs, Labour and Transport of the State of Lower Saxony (Niedersächsisches Ministerium für Wirtschaft, Arbeit und Verkehr).