On-line Quality Monitoring System for Laser Cutting of Thermoplastics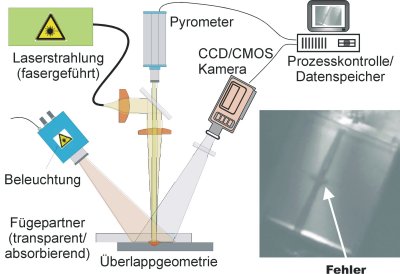 Fig. 1: Principle of the on-line quality monitoring system and photo of an error made during the welding process.
In order to support the industrial use and spread of laser welding of thermoplasts, and to guarantee high product quality, a reliable and effective on-line monitoring system for quality assurance is necessary. Up to present, the quality of plastic welding is often examined in a post-processing off-line cycle, or by subjective visual monitoring by the machine operator.
The goal of a new research project being carried out at the Laser Zentrum Hannover e.V. (LZH) is to explore the potential and the limitations of an on-line quality monitoring system for laser welding of thermoplasts, especially concerning the robustness, flexibility, speed and reliability of the system. Both errors in the welding process and changes in the beam parameters should be recognized, as well as their effects on the laser weld (particularly concerning weld strength). The user should have access to a process-sure and inexpensive quality control system. The goal of the project is to not only recognize errors on ideal laboratory workpieces, but on workpieces from an industrial environment.
In order to achieve this, the optical characteristics of weldable thermoplasts in the near-infrared-range (NIR) are used. Information concerning temperature is combined with direct optical imaging of the welding zone, using an optical pyrometer and a CCD or CMOS camera. These results can be used to develop a catalogue of characteristics describing the process, which can be used as the basis for a modular, real-time, robust, inexpensive and maintenance-free on-line process monitoring system for quality control.
The availability of such a system will give increased process stability and economic potential to the plastic processing industry, by reducing reject rates and thus lowering costs.
The research project is supported by the German Federation of Industrial Cooperative Research Associations (AiF).
Press release for download:
Business Development & Communications Department
Michael Botts
Public Relations
Tel.: +49 511 2788-151
Fax: +49 511 2788-100
The Laser Zentrum Hannover e.V. (LZH) carries out research and development in the field of laser technology and is supported by the Ministry of Economic Affairs, Labour and Transport of the State of Lower Saxony (Niedersächsisches Ministerium für Wirtschaft, Arbeit und Verkehr).