New LZH spin-off company focuses on micro processing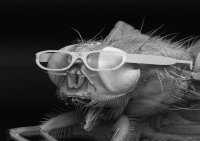 Fig. 1: Housefly wearing designer glasses manufactured by Micreon
Micreon GmbH, the latest spin-off company of the LZH, focuses on micro processing using state-of-the-art laser technology. The company is the first to use ultra short pulse lasers for the manufacture of highly-precise components. Any material can be processed by ultra short pulse lasers without any damage, and, in addition, precisions of less than one thousandth millimetre can be achieved.
This young company works in the environment of the LZH and is a service provider focusing on customers from the medical-technical field. Their innovative laser technology is in line with the current trend of miniaturization. The founders of the company, Dr. Frank Korte and Dr.-Ing. Guenter Kamlage, were formerly employed at the LZH where they have been working in the field of micro processing using ultra short pulse lasers.
To illustrate the great opportunities of laser precision processing, the Micreon team have manufactured a glasses frame for a housefly. It may well go unnoticed by the layman, but the funny example of a housefly wearing designer glasses demonstrates the large potential of micro system technology for high-tech products. The housefly designer glasses will be shown at the Hannover Messe (11 – 15 April 2005; hall 2, booth A10).
Business Development & Communications Department
Michael Botts
Public Relations
Tel.: +49 511 2788-151
Fax: +49 511 2788-100
The Laser Zentrum Hannover e.V. (LZH) carries out research and development in the field of laser technology and is supported by the Ministry of Economic Affairs, Labour and Transport of the State of Lower Saxony (Niedersächsisches Ministerium für Wirtschaft, Arbeit und Verkehr).