Laser Zentrum Hannover e. V. at Hannover Fair 2006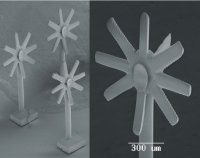 Fig. 1: Presumably the worldwide smallest functioning windmill, fabricated at the LZH, which does not exceed the size of a grain of sand
At this year's Hannover Fair (April 24-28), the Laser Zentrum Hannover e. V. (LZH) presents the industry-oriented use of lasers, spanning from the generation of nanoparticles to the welding of crane arms. This year, the LZH focuses on nanotechnologies, microprocessing using lasers, and laser beam welding.
Via a magnifying glass, visitors to the fair can view presumably the smallest functioning windmill in the world (size of a grain of sand), or they may hold in the hand a hand-held laser device for the hardening of deep drawing tools. Moreover, software for a fast cost calculation for 3D laser beam cutting is presented, as well as a system for laser microwelding of electronic components onto circuit boards.
You will find the LZH in hall 14, booth H 36, on the joint booth of "hannoverimpuls". Together with production technology institutes, the Automotive Competence Center, and other companies from the Hannover region we look forward to seeing you at the Hannover Fair!
Business Development & Communications Department
Michael Botts
Public Relations
Tel.: +49 511 2788-151
Fax: +49 511 2788-100
The Laser Zentrum Hannover e.V. (LZH) carries out research and development in the field of laser technology and is supported by the Ministry of Economic Affairs, Labour and Transport of the State of Lower Saxony (Niedersächsisches Ministerium für Wirtschaft, Arbeit und Verkehr).