Using ceramic particles to come off well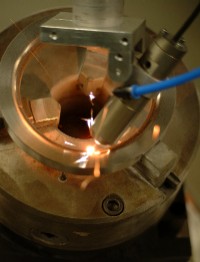 Fig. 1: Temperature-controlled laser beam dispersing of forming tools
The aim of one of the research projects at the Laser Zentrum Hannover e.V. (LZH) is to considerably improve the properties of metallic punching tools by laser beam dispersing of ceramic particles. The improved tool properties shall make possible a longer service life as well as an improved quality of cut parts.
This is necessary as a result of the increasing use of lightweight materials such as aluminum alloys and high-strength sheet steel materials for autobody components in automotive industry. The punching of these materials, however, is associated with high tool wear. Not only does this mean increasing costs for tools, but also an increasing number of tool replacements and the resulting production downtime.
These deficits can be overcome by laser beam dispersing of ceramic particles (ZrO2) in cutting tool surfaces, because ceramic materials possess favorable properties such as high hardness and high resistance against abrasive and adhesive wear.
In the research project, ceramic-reinforced model tools are tested in comparative wear-resistance trials to assess the quality and suitability of the relevant laser processing strategy. In this process, not only the typical wear properties at the cutting tools are identified and evaluated, but also the quality of the cutting result. Another research focus involves the selection and manufacturing or modification of tool prototypes.
Tool makers and sheet metal workers in automotive and mechanical engineering shall be able to manufacture or use ceramic-reinforced tools for cutting of aluminum and high-strength sheet steel materials by the end of the project (February 2007). While the costs are slightly higher than those of conventional tools, these laser beam dispersed tools shall have a longer service life in production, produce a better quality of the sheet steel workpiece, decrease lubricant consumption, and extend the possibilities in metal working. Thus, the broadened processability of aluminum and high-strength sheet steel may result in product innovations and an extended field of application of these sheet steel materials.
The research project, which is supported by the European Research Association for Sheet Metal Working (EFB), is carried out in cooperation with the Institute of Production Technology (LUT) of the Dresden University of Technology.
Business Development & Communications Department
Michael Botts
Public Relations
Tel.: +49 511 2788-151
Fax: +49 511 2788-100
The Laser Zentrum Hannover e.V. (LZH) carries out research and development in the field of laser technology and is supported by the Ministry of Economic Affairs, Labour and Transport of the State of Lower Saxony (Niedersächsisches Ministerium für Wirtschaft, Arbeit und Verkehr).