Assuring weld seam quality by basic investigations of weld pool dynamics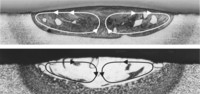 Fig. 1: Opposing weld pool dynamics in different materials (top: TiAl6V4 and bottom: S235JR)
One of the technologically significant projects of fundamental research at the Laser Zentrum Hannover e.V. (Lzh) that is supported by the German Research Foundation (DFG) since January 1st, 2006 aims at developing new basic results in the field of welding technology. The main task of the project is to obtain new findings about the influence of process gases and specific alloying elements on the weld pool dynamics. Such findings can be used to optimize the process control and quality assurance during laser beam conduction welding.
In order to register the weld pool dynamics, marking particles are brought into the weld pool. Both marking particles and weld pool are X-rayed together. Since the marking particles weaken the X-rays more than the melt, they sort of cast a shadow, which makes it possible to trace and register the weld pool dynamics.
The X-rays are transferred into visible light using an image converter and fed into a high-speed camera. A special analysis system is then used to trace the particle paths image by image to determine speeds and flow directions and to register their influence on the weld pool growth.
Laser beam conduction welding has the advantage over conventional welding procedures in that no mechanical or electrical influence of the weld pool surface takes place during welding. Aerodynamic influences of the weld pool surface as during gas welding, for instance, is completely missing. Thus, influences of the welding environment can be observed particularly well.
During the investigations technologically relevant alloying elements and process gases are used. First of all the research focuses on the investigation of weld pools of iron basis materials. Further material groups shall be investigated on the basis of the new findings after having completed the work in March 2007.
We like to thank the German Research Foundation for supporting the project.
Business Development & Communications Department
Michael Botts
Public Relations
Tel.: +49 511 2788-151
Fax: +49 511 2788-100
The Laser Zentrum Hannover e.V. (LZH) carries out research and development in the field of laser technology and is supported by the Ministry of Economic Affairs, Labour and Transport of the State of Lower Saxony (Niedersächsisches Ministerium für Wirtschaft, Arbeit und Verkehr).