Laser technology enables high-resolution 3D micromachining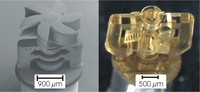 Fig. 1: Micromechanical parts machined using laser-assisted production technology (left: scanning electron microscope image, right: light optical microscope image)
An increasing miniturization in production – also in medical technology – calls for an innovative process and system technology. In order to meet these requirements, the Laser Zentrum Hannover e.V. (LZH) currently uses a specifically developed system for flexible and high-resolution 3D micromachining. This system allows that any 3D microstructure can be built in one step directly from the CAD model.
Already now it is possible, for instance, to generate functional mechanical systems (see illustration). One particular advantage of the developed process technology is that the assembly of single components becomes unnecessary: The entire group of components with free-moving parts is machined in one step!
The new process technology uses the technology of the already existing stereolithography. Here, liquid polymers known as photoresists are cured using laser radiation. With the photoresists currently employed at the LZH a vertical and lateral resolution of approx. 5-10 µm and 3-5 µm respectively is possible.
Continuative work using this system will aim at machining complete microtechnical component groups in the field of microfluidics or microdosing technology. The LZH offers support in the field of microtechnical product development and further development of existing products for medicine technical applications.
The development of process technology for the machining of micromechanical structures was supported by the European Commission in the framework of the CRAFT project: "Rapid production tool for micro mechanical systems (PronTo)".
Business Development & Communications Department
Michael Botts
Public Relations
Tel.: +49 511 2788-151
Fax: +49 511 2788-100
The Laser Zentrum Hannover e.V. (LZH) carries out research and development in the field of laser technology and is supported by the Ministry of Economic Affairs, Labour and Transport of the State of Lower Saxony (Niedersächsisches Ministerium für Wirtschaft, Arbeit und Verkehr).