Nanococktails from the laser bar: The production of highly pure nanomaterials by laser ablation in liquids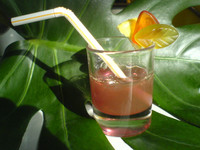 Fig. 1: "Nanococktail" of laser generated nanoparticles in plastic
As measured by the patents in Europe, Nanotechnology is considered as motor for the future of energy, environmental, information and medical technology. Nanostructures have particular properties that differ from those of "the big ones". Nanoparticles of gold, for instance, have a reddish color, ceramic nanoparticles invisibly provide for scratch-resistant car paints, and nanoparticles of silver protect against infections and diseases. Usually, these particles are produced by chemical means in the gaseous or liquid phase, which can lead to agglomerations or impurities by adjuvants such as precursors and additives. For sophisticated applications in plastics and medical technology, however, highly pure and stable particles are required. Furthermore, users often require nanoparticles of new materials and alloys, as well as mixtures of nanoparticles for the combination of nanoeffects. But how can such nanomaterials be produced rapidly and of highly pure quality?
At the Laser Zentrum Hannover e.V. (LZH), laser technology is used to generate nanoparticles. The laser "blasts" the nanoparticles out of a substrate surface – the engineer calls this material ablation – directly into a suitable liquid such as oil, water, or solvent, which at the same time stabilizes the precious and highly sensitive nanomaterial. One particularity of this procedure is that any solid material can be "chopped" this way, thus hardly any conceivable application-specific nanomaterial mixture can be produced. Or to put it this way: This procedure allows to mix nanococktails by combining optional ingredients according to a "recipe". This is particularly important for making use of the nanoeffects in further processes to produce plastic parts or medical products.
The procedure – also known as Rapid Nanomaterial Manufacturing – enables the production of stable nanoparticles, as well as their lossless embedding (complete dispersion) into a desired plastic material. Since the procedure does not require the use of chemical adjuvants, the product is particularly pure, thus free from possible uncontrollable effects, quality deviations, or secondary effects.
Business Development & Communications Department
Michael Botts
Public Relations
Tel.: +49 511 2788-151
Fax: +49 511 2788-100
The Laser Zentrum Hannover e.V. (LZH) carries out research and development in the field of laser technology and is supported by the Ministry of Economic Affairs, Labour and Transport of the State of Lower Saxony (Niedersächsisches Ministerium für Wirtschaft, Arbeit und Verkehr).