Laser Zentrum Hannover e.V. (LZH)
Hollerithallee 8
D-30419 Hannover
Tel.: +49 511 2788-0
Fax: +49 511 2788-100
Email: info@lzh.de
By car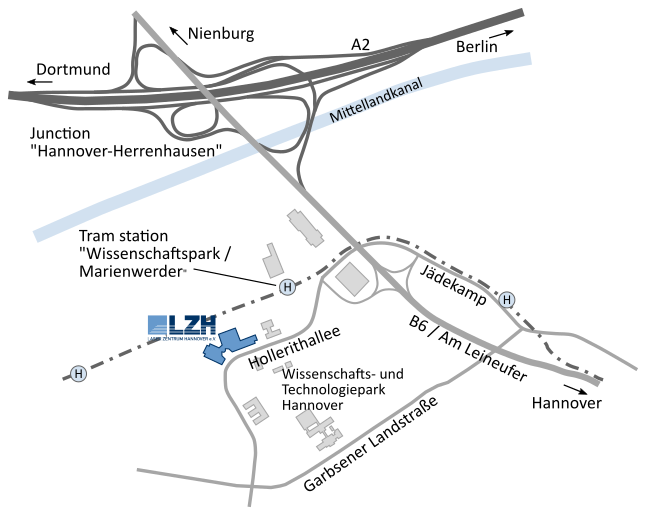 Take the Autobahn A2 to the exit "Hannover-Herrenhausen" in the direction of Hannover and continue on the B6. After about 500 m take the exit "Wissenschaftspark" to the right. Turn left at the light.The LZH building is the second building on the right.
By train / tram
From the main station in Hannover either by taxi (about 20 min./about 30.- €) or by underground line 4 from the station "Kröpcke". The station "Kröpcke" is 5 minutes by feet from the main station, or can be reached via the following underground lines:
line 1 direction "Sarstedt"
line 2 direction "Rethen"
line 3 or 7 direction "Wettbergen"
line 8 direction "Messe"
At "Kröpcke" please change trains and take the line 4 direction "Garbsen". As you exit the train at "Marienwerder / Wissenschaftspark", please take the alley on the left and then turn right into Hollerithallee. After ~ 200 m you will find the LZH on the right hand side (~ 3 min. by feet). Single ticket (one way) ~3.40 Euro; travel time ~ 30 min. Electronic timetable information: https://www.gvh.de.
By plane
From the airport Hannover-Langenhagen (HAJ) either directly by taxi (about 15 Min./ about 30.- €) or take the S-Bahn (Line S5) (travel time about 17 min.; every 30 min.) to Hannover main station, then continue as above by tram.
Visitor Address
Here you find the LZH at Google Maps
Laser Zentrum Hannover e.V.
Hollerithallee 8
D-30419 Hannover
Tel.: +49 511 2788-0
Fax: +49 511 2788-100
Email: info@lzh.de
Hotel recommendations
Mercure Hotel am Entenfang Hannover
Eichsfelder Str. 43, 30419 Hannover
Phone: +49 511 9795-0
Fax: +49 511 9795-299
info@hotel-am-entenfang.de
www.hotel-am-entenfang.de
4 minutes by car. Public transport: approx. 15 minutes. Hotel Shuttle Service to the underground station "Stöcken Friedhof" (must be booked in advance by phone: +49-511-97 95 0, costs: 2 Euro/person/trip). Exit at "Marienwerder/Wissenschaftspark" (duration: 7 minutes). LZH is just two 3 walking minutes (500 m) from the station.

Hotel Havelser Hof
Hannoversche Str. 45
30823 Garbsen, Germany
Phone: +49 5137 8749-060
Fax: +49 5137 8749-0666
info@havelserhof.de
www.havelserhof.de
Distance from the LZH: 4 min. by car, approx. 10 min. by public transport.
IntercityHotel Hannover Hauptbahnhof Ost
Andreas Hermes Platz 1
30161 Hannover
Tel: + 49 511 20022000
hannover@intercityhotel.com
www.intercityhotel.com
Distance from the LZH: 18 min. by car, approx. 34 min. by public transport.