Scientific work and Focus of Group

Laser processing of glass materials
Increasing process efficiency
Structuring of glass surfaces
Joining processes for glass tubes and plate glass
Joining processes for glass-metal seams for glass tubes and plate glass
Forming processes
Drilling with different laser sources
Laser processing of glass offers significant advantages in comparison to conventional processing methods. Among these are the flexibility of the laser for individual processing and manufacturing. However, laser processing also offers the possibility of overcoming other limitations in standard serial production. For example, microprocessing can be used to generate very small structures, or energy input can be controlled to avoid unnecessary heating of the workpiece. For all processing methods, the analysis of the thermal stresses in the material is of utmost importance, and is considered to be one of the main units of material processing.
The LZH works together in glass processing projects with innovative industrial partners:
Advantages of using Laser Technology for Glass Processing:
Defined interaction zone, both spatially and temporaly
Precise control of the process temperature
Chemically neutral
Possibility for automation
Processing of Glass Tubes
Glass tubing is one of the main elements in solar collectors or chemical plants. The further processing of these tubes using thermal processes is an important element in manufacturing. Laser-based processes such as cutting, joining of glass-glass or glass-metal, as well as forming process can be used. One of the basic precepts for using these processes is controlling the glass viscosity using suitable methods and techniques.
Microprocessing of Glass
Glass processing on a microscopic scale is one of the domains of laser technology. Almost all types of glass can be processed using different laser sources. The range of microprocessing extends from extremely small holes to micro-channels to micro-forms. Of utmost importance in microprocessing is being able to avoid damage to the workpiece, such as micro-cracks or material stress.

Laser drilling of glass

Micro-channels in glass
Structuring of Glass Surfaces
Structuring large glass surfaces of plate glass is important for architectural uses and is presently done using chemical etching or sand blasting. In these processes, the glass surface is etched using hydrofluoric acid, or mechanically removed using granulates which roughen the surface. The processed glass is matt. Production is slowed down and costly, due to handling, preparation and disposal of processing material, which is partially environmentally unsafe or unhealthy.
A solution to this is to use a CO2 laser source together with a scanner. Thus, the disadvantages of conventional processing can be avoided, and flexibility increased. The advantages of laser technology are:
variable designs
one-step processing
adjustable light diffusion
no fingerprints
Removing Coatings from Glass
Laser technology can also be used to remove coatings from coated glass. The system technology can be used to remove coatings in the micrometer range or over large surfaces. This coating removal process can be used, for example, for decorative purposes on mirrors, or for producing optical components with light diffusion properties. A furhter use of laser technology is the production of electronical components using glass as a substrate material. An indium-zinc-oxide (ITO) coating on glass can be locally removed, allowing the production of circuuit paths for electronical components.

Partial removal of coatings on glass substrates
Stress Measurement
For later production steps, it is especially important to be able to determine residual stresses in glass components after they have been subjected to thermal treatment. In order to evaluate the laser processing, these stressses can be measured using an imaging polarmetry process. This process can be used to determine spatial resolution or for comparison of batches, and thus supports the development of industrial processes. This is especially important for optimizing residual stresses in the following cooling processes.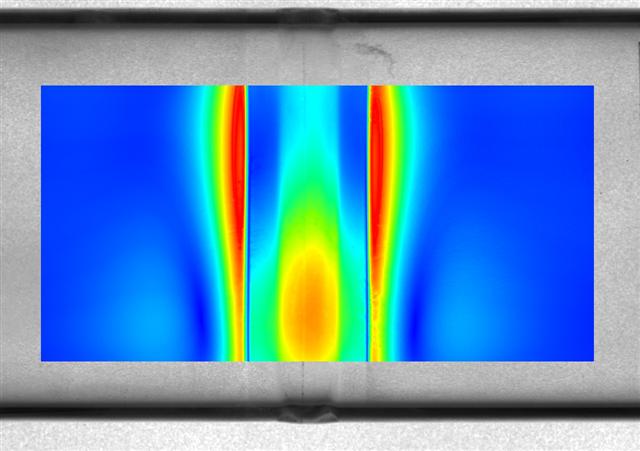 Thermal stress images (false colors)
We also carry out measurements on your products or samples!
In co-operation with:
More information
Read more in our new Flyer "When high-tech meets glass" (pdf-file; 475 kb).